Dirty Russian: Second Edition: Everyday Slang from "What's Up?" to "F*%# Off!" (Paperback)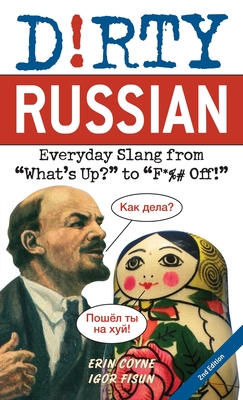 Description
---
Learn the slang words, modern phrases, and curses they definitely never taught you in Russian class with this super-handy and hilariously improper English-Russian phrasebook.
You already know enough Russian to get by, but you want to be able to tell those inside jokes, greet your friends in a laid-back manner, and casually pick someone up at a bar.
From "what's up?" to "Wanna go home with me?"
Dirty Russian
will teach you how to speak like you're a regular on the streets of Moscow. But you'll also discover material that goes beyond a traditional phrasebook, including:
Hilarious insults
Provocative facts
Explicit swear words
Themed Russian cocktails
And more!
Next time you're traveling to Russia, pick up this book, drop the textbook formality, and get dirty!
About the Author
---
Igor Fisun is a native of Kiev, Ukraine, which, in moments of nationalist pride, he prefers to spell "Kyiv." He is a former student of Kiev PTU, where he quickly abandoned all interest in ever holding down a real job and instead embarked upon a career in freelance engraving. His native languages are Russian and Ukrainian, and he hopes someday to learn English well enough to talk his way out of a traffic ticket. His interests include cooking, Japanese art, cheap wine, and pissing people off on internet forums. He is ridiculously proud of his orchid collection.