Star Wars: Jedi Artifacts: Treasures From a Galaxy Far, Far Away (Star Wars For Kids, Star Wars Gifts, High Republic) (Star Wars Artifacts) (Novelty book)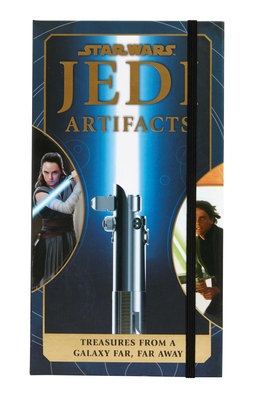 Description
---
From keychains to a punchout starship model, discover a dozen inserts inspired by legendary Jedi Knights!

A collection of treasures centering on the galaxy's greatest heroes, Star Wars: Jedi Artifacts offers exciting collectibles that represent thrilling moments from the history of the Jedi Order.

• COLLECT A DOZEN UNIQUE ARTIFACTS: Featuring a woven patch, punchout starship model, high-quality stickers, a collectible pin, keychains, and more incredible items, this kit is a great gift for Star Wars fans of all ages.

• DISCOVER THE ADVENTURES OF LEGENDARY JEDI: From the heroic days of the High Republic, to the eras of Obi-Wan Kenobi, Ahsoka Tano, Luke Skywalker, and Rey, Star Wars: Jedi Artifacts compiles exquisite inserts inspired by the Jedi and their valiant adventures.

• BUILD YOUR STAR WARS COLLECTION: Star Wars: Jedi Artifacts stands alongside fan-favorite Star Wars books including Star Wars: The Lightsaber Collection, Star Wars: The Secrets of the Jedi, and Star Wars: Galaxy's Edge: The Official Black Spire Outpost Cookbook.
About the Author
---
Celebrated for its unwavering dedication to quality, Insight Editions is a publisher of innovative books, journals, and collectibles that push the boundaries of creativity, design, and production. Through its acclaimed film, television, and gaming program, Insight strives to produce unique books and products that provide new ways to engage with fan-favorite characters and stories. Under the program, Insight has published books covering the worlds of Star Wars, Game of Thrones, The Walking Dead, Destiny, Assassin's Creed, Halo, Diablo, World of Warcraft, and the Harry Potter films, among many others. Insight's award-winning art, photography, and sports titles celebrate the artistry and legacy of a wide range of subjects that include John Lennon, Kurt Cobain, Johnny Cash, and The Rolling Stones.

By combining rich subject matter, striking visuals, and exclusive content with imaginative design and production, Insight Editions strives to create unique keepsakes that celebrate the best in pop culture and make one-of-a-kind gifts for fans of all ages.