World of Warcraft: New Flavors of Azeroth Gift Set Edition (Novelty book)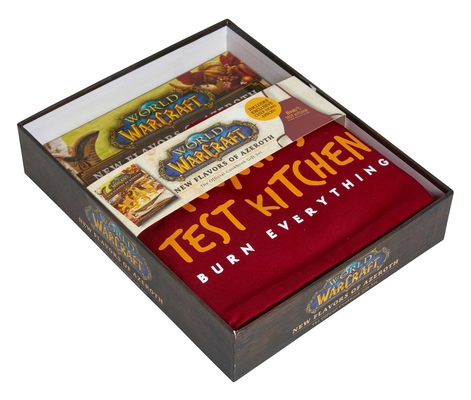 Description
---
The perfect gift for any fan of World of Warcraft.

Journey through Azeroth and prepare to feast on new culinary delights inspired by World of Warcraft. This official gift set comes with World of Warcraft: New Flavors of Azeroth and an exclusive apron featuring celebrated Pandaren chef Nomi, equipped with a large front pocket and adjustable straps.

As a young boy in Pandaria, Nomi answered the beckoning call of the Cooking School Bell and quickly grew into a promising chef. Through the years, this intrepid cook has traveled across Azeroth, learning countless regional recipes and techniques from Pandaria, the Broken Isles, and even the mysterious Shadowlands. In this cookbook, Nomi has collected the best recipes gathered during his travels, including:

—Bladespire Bagel
—Wild Berry Bread
—Chewy Fel Taffy

Equip your apron and let culinary expert Nomi be your guide in World of Warcraft: New Flavors of Azeroth Gift Set.
About the Author
---
Chelsea Monroe-Cassel is the coauthor of A Feast of Ice and Fire: The Official Game of Thrones Companion Cookbook and the author of World of Warcraft: The Official Cookbook, Hearthstone: Innkeeper's Tavern Cookbook, and The Elder Scrolls: The Official Cookbook. Her work is a synthesis of imagination and historical research. This passion has led her to a career of transforming imaginary foods into reality. She greatly enjoys foreign languages, treasure hunting, history, and all things related to honey.