Create Your Own Graphic Novel: A Guide for Kids: Write and Draw Your Own Book (Paperback)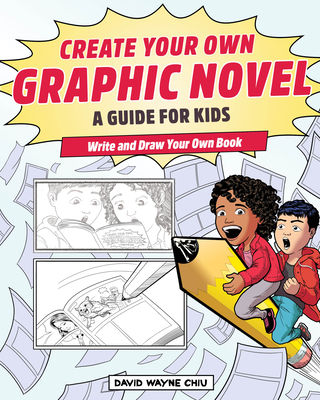 Description
---
Create a real comic with an illustrated guide and fill-in pages for kids ages 8 to 12

Swashbuckling adventure, mystery, fantasy, autobiography—if a child can dream of a story, they can tell it as a comic book. With this write your own book for kids, they will unlock their powers of verbal and visual storytelling to make their own graphic novel. Along with a guide to writing and drawing a story from start to finish, kids will find more than 50 pre-paneled layout pages to fill using their imagination.

Fun exercises make it easy to understand real professional techniques for writing an outline, evoking movement using action lines, planning transitions between panels, and more. Then, young writers and artists can bring their own comics to life on the blank pages right away with speech bubbles, sound effects, inking, and coloring. Whether they want to birth a new superhero, make a world of talking animals, or share their own school stories, they'll just need to bring a pencil and their creativity!

Learn how fun it can be to create graphic novels with this write your own book for kids!
About the Author
---
DAVID WAYNE CHIU provides an array of sequential art and illustration services. His comic art has been published under Pronto Comics' Deathology. David has illustrated several instructional comics for Controlled Combustion and Kaotica Corp and was a commercial storyboarder for Chubb Insurance, Brave New World, and Forge Apollo Videoworks.
Praise For…
---
"David Chiu truly makes drawing comics fun in this book: he manages to share his expertise succinctly while not bogging down the reader with too many lengthy explanations. I would recommend this book to children of any age interested in drawing their own graphic novel, and any teacher to have to help prepare for teaching comics in the classroom." —David Shear, Art Teacher, Long Island, NY

"David Wayne Chiu's Create Your Own Graphic Novel is a great starter workbook for the young cartoonist. Whereas many how-to-draw-comics books get bogged down in drawing technique, Chiu's focus is on the more integral aspects of comics—storytelling and theory! He succeeds in presenting these topics so as to make them comprehensible to the young reader, in a sequence of step-by-step interactive lessons. This is a great introductory volume to prepare the young cartoonist for the more advanced Understanding Comics by Scott McCloud." —Jason Little, Cartooning Coordinator, School of Visual Arts

"If you're curious about comics as a creative means to tell your story, Create Your Own Graphic Novel: A Guide for Kids is an absolute must-get! It's an essential guide that walks the reader through all the basics in a clever and engaging way. David Wayne Chiu utilizes his deft skill, combining words and pictures to give you the understanding of how you, too, can create your own story using words and pictures. He conveys the joy and relative ease of the task while covering a lot of ground. For those of you looking to create your own graphic novel, there is no better way to start than with this guide. Highly recommended!" —Fletcher Chu-Fong