Ottoman Empire: A Captivating Guide to the Rise and Fall of the Ottoman Empire, The Fall of Constantinople, and the Life of Suleiman t (Hardcover)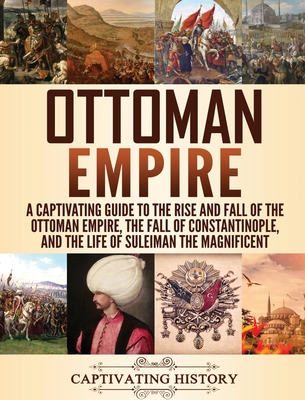 $29.99

Usually arrives at our store within 4-7 days
Description
---
If you want to discover captivating stories of people and events of the Ottoman Empire then keep reading...
Three captivating manuscripts in one book:
The Ottoman Empire: A Captivating Guide to the Rise and Fall of the Turkish Empire and its Control Over Much of Southeast Europe, Western Asia, and North Africa
The Fall of Constantinople: A Captivating Guide to the Conquest of Constantinople by the Ottoman Turks that Marked the end of the Byzantine Empire
Suleiman the Magnificent: A Captivating Guide to the Longest-Reigning Sultan of the Ottoman Empire
The Ottoman world was nothing like an exotic fairytale featuring tyrant sultans, mean pashas, and ill-fated harem women. The true stories of genuine sultans and princes are a bit more complicated and no less exciting.
Incredible facts about this empire still surprise anyone who starts discovering those stories. You'll find out that, for quite a while, this Islamic state was effectively ruled by women, and that's just the beginning.
Some of the topics covered in part 1 of this book include:
The First Sultan
The Conqueror
The Just and the Resolute
The Magnificent
Friend
The Power of Harem
The Sultanate of Women
The Supreme Valide
Husbands and Sons
Grandest of the Grand
Flower Power: the Age of Tulips
Transformation
A Step toward Modernization
The Reorganization
The Last Absolute Ruler
The End of the Ottoman Empire
Some of the topics covered in part 2 of this book include:
The Gateway to the West
God Wills It: Knights of the First Crusade
Broken Promises: The Fourth Crusade
Schisms in the Church
Preparation: The Big Guns
Constantinople: The Final Stand
The aftermath
Some of the topics covered in part 3 of this book include:
The World Before Suleiman I
Succession
Lover, Poet, & Patron of the Arts
Father
Friend
Campaigner
Statesman
And much, much more
So if you want to learn more about the Ottoman Empire, click the "add to cart" button