To the North/Al norte: Poems (New Oeste) (Paperback)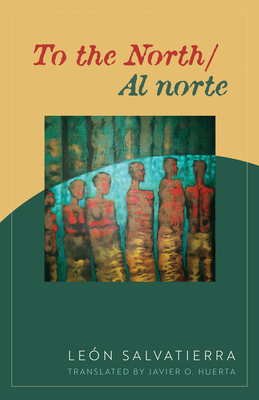 $18.95

Usually arrives at our store within 4-7 days
Description
---
The University of Nevada Press is pleased to publish its first dual-language (Spanish-English) book of poetry, To the North/Al norte: Poems, by the Nicaraguan poet León Salvatierra. The work is rooted in the Central American diaspora that emerged from the civil wars in the 1980s. The poems are tied together through the experiences, memories, visions, and dreams of a 15-yearold boy who embarked on a journey to the United States with a group of forty other migrants from Central America. After being undocumented for eleven years, Salvatierra established himself in the United States, first becoming a naturalized citizen and then obtaining a university education.

Salvatierra mixes lyrical and prose poems to explore the experience of exile in a new country. His powerful metaphors and fresh images inhabit spaces fraught with the violence, anxiety, and vulnerability that undocumented Central American migrants commonly face in their transnational journeys. His vivid memories of Nicaragua tie the personal experiences of his poetic subjects to the geopolitical history between the Central American region and the United States.
About the Author
---
León Salvatierra is a Nicaraguan poet who migrated to the United States at the age of 15. In 2014 he earned his PhD in Hispanic languages and literatures from the University of California, Berkeley, and in 2020 he received an MFA in poetry from the University of California, Davis. In 2020 he won the Juana Goergen Poetry Prize. He is currently teaching culture and literature courses in the Department of Chicana/o Studies at UC Davis.
 
Javier O. Huerta is the author of American Copia: An Immigrant Epic and Some Clarifications y otros poemas, which was awarded the 31st Chicano/ Latino Literary Prize from the University of California, Irvine. He earned his MFA from the Bilingual Creative Writing Program at the University of Texas at El Paso. Currently he teaches at Mission College in Santa Clara, California, and lives in Oakland.
Praise For…
---
"By combining prose and poetry, and blurring the boundaries between genres and nations, Salvatierra manages to assert individual agency and wrest control of his own story." 
—Diego Báez. Poetry Foundation

"Largely translated by Javier O. Huerta, it is simultaneously heartbreaking and hilarious — even more so if you can read it in both languages." 
—Daniel A. Olivas, Los Angeles Times

"The collection chronicles the poet's journey from Nicaragua to the U.S. as he faces obstacles as an undocumented teenager and as he adjusts to the demands of life in a new land. To read this book is to get is poignant and poetic look at what it means to be marginalized in the U.S."
—Jose B. Gonzalez, Latino Stories

"The poetry here is at once intimate and public, which makes for a complex and rich alchemy. León Salvatierra's range of registers is breathtaking."
—Francisco Aragón, poet, editor, director of Letras Latinas at the Institute for Latino Studies, University of Norte Dame, and author of After Rubén
 
"To the North/Al norte makes poetry feel essential, that without it, Salvatierra's speakers would become unmoored, losing everything that they have tried so hard to recover. Salvatierra clearly revels in language. . . . This collection is a significant contribution to the growing body of undocumented literature as well as Latinx literature." 
—Maceo Montoya, professor, University of California, Davis, author of Preparatory Notes for Future Masterpieces

"The memory and humanity that Salvatierra reaps along the way are ultimately challenged, and subdued . . . What we're left with is the impression of autonomy; and its anatomy of longing."
—Delphic Reviews