The Secret Of The Rosary (Hardcover)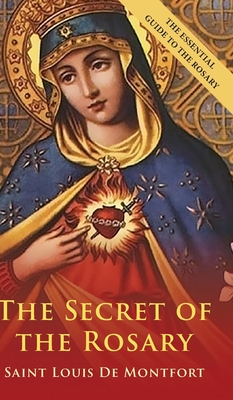 $21.95

Usually arrives at our store within 4-7 days
Description
---
The Essential Guide to Understanding and Living the Holy Rosary
"God is a spring of living water which flows unceasingly into the hearts of those who pray."
― Louis de Montfort, The Secret of the Rosary
St. Louis-Marie Grignion de Montfort's classic tells you everything you need to know about the Catholic Church's Holy Rosary, which he likens to a mysterious and beautiful rose that brings joy both to the Virgin Mary and to the souls of those who pray it. In clear, easy to understand language, he illuminates all aspects of the Rosary.
The treatise begins with an enlightening series of "gifts" about the Rosary, including explanations about the historical basis for its origins and how it was first expressed in prayer. Montfort proceeds to relate tales of miracles and wonders experienced by passionate believers who have prayed the Rosary. There is also an invaluable section dedicated to instructing readers on how to say the Rosary properly, including the ideal poses to be in and what kind of mindset to maintain while reciting prayers. It also includes useful tips on minimizing distractions and maintaining focus as you meditate on the mysteries of the Rosary.
This treasured book is critical for understanding Catholic teaching about the Rosary and makes an excellent gift for Catholic or aspiring believer seeking spiritual enrichment. The insight it provides induces the reader to not just say the Rosary, but to whole-heartedly pray it. Devout readers will gain a better understanding of Mary's beloved prayer, deepen their faith and trust in God, and come away with a renewed appreciation and love for the most Holy Rosary as well as practical guidance for putting their faith into practice every day.
This book is also available from Seven Star Publishing as a paperback (ISBN 1648371426).