Spin (Hardcover)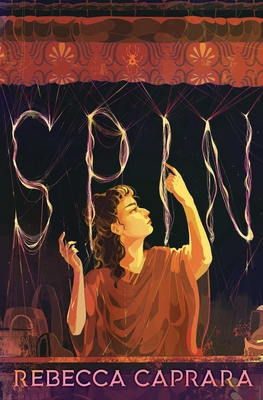 Description
---
The Song of Achilles and Circe get a sapphic, young adult twist in this "exciting, richly textured, thought-provoking" (Kirkus Reviews, starred review) retelling of the myth of Arachne spun in moving verse.

Arachne is a homely girl with no claims to divinity or fortune, ostracized by all but her family and closest friend, Celandine. Turning to her loom for solace, Arachne learns to weave, finding her voice and her strength through the craft. After a devastating loss, Arachne and Celandine flee to the city of Colophon, where Arachne's skills are put to the test. Word of her talent spreads quickly, leading to a confrontation with the goddess Athena, who demands that Arachne repent for her insolence and pride.

But Arachne will not be silenced. She challenges Athena, and a fateful weaving contest ensues, resulting in an exposé of divine misdeeds, a shocking transformation, and unexpected redemption.

A brilliant weaver of words, author Rebecca Caprara transforms an ancient myth into a sweeping novel in verse, unraveling the tales that frame Arachne as a villainess and deliver a timely story of long-awaited justice.
About the Author
---
Rebecca Caprara likes to spin a good yarn. She is the author of multiple acclaimed novels and the recipient of the Marguerite W. Davol Picture Book Critique Scholarship and the Jane Yolen Scholarship from the Society of Children's Book Writers & Illustrators. An artist and avid globetrotter, Rebecca has lived in Italy, Singapore, and Canada. She is now growing roots in Massachusetts with her family. Learn more about her work at RebeccaCaprara.com.
Praise For…
---
"Caprara's novel-in-verse gives Arachne's tale the texture it needs to keep readers engaged. Her frustration and anger towards the gods' unwillingness to show her mercy in multiple aspects of her life is palpable. Greek myths are seamlessly woven into the text as stories from Arachne's mother, which greatly impact Arachne's feelings. The pacing is perfect, starting off slowly and building to the exciting climax of Arachne's competition with Athena...Captivating. Readers who enjoy mythology will devour this novel."
— School Library Journal, starred review

"Spin is a powerful feminist retelling of an ancient tale about empathy and defiance, written in beautiful verse from a truly unique viewpoint."—Margarita Engle, Newbery Honor-winning author of The Surrender Tree and Young People's Poet Laureate Emeritus

"In Spin, Rebecca Caprara pulls together threads of millennia-old stories and weaves a completely fresh tapestry that unravels what we thought we knew of Arachne. From the first page, lush, self-assured verse immerses readers in a world both mythic and all too familiar. A tour de force!"—Joy McCullough, award-winning author of Blood, Water, Paint

* "Via alternating past and present narration told in sensate verse, Caprara cultivates a tale of ill-fated competition between mortals and gods in this captivating read, a crash course in Greek mythology...Fittingly using Arachne's mythos as a framework, Caprara navigates issues surrounding gender norms, grief, and trauma, while accentuating how art and storytelling can serve as acts of healing and advocacy."
— Publishers Weekly, Starred Review

"Intricately weaves the myth of Arachne in beautiful verse that is filled with rebellion, hope, and longing. Perfect for Madeline Miller fans!"—Kip Wilson, award-winning author of White Rose

"Caprara spins heartbreak into art, myth into reality, and poetry into music, all within a masterful narrative frame. Spin is a stunning must-read."—Colby Cedar Smith, award-winning author of Call Me Athena: Girl from Detroit

* "Gifted poet and storyteller Caprara keeps readers engaged, varying the pace, cadence, and emotional shading of Arachne's passionate refutation of the gods' ruthless exercise of power and privilege. Her own anger serves her purposes; if speaking truth to power exacts a high price, it's one she's willing to pay. Exciting, richly textured, thought-provoking fare."
— Kirkus Reviews, Starred Review

"Rather than hubris being Arachne's 'downfall,' it is her courage to illuminate the suffering and oppression of women and her refusal to dismiss her natural artistry and hard work as a mere gift from the gods. . . . This compelling work explores female agency in a thought-provoking manner that teen readers won't soon forget."
— School Library Connection, highly recommended

"Fans of Greek mythology will find themselves immersed in Caprara's novel-in-verse retelling of Arachne. . . . Caprara weaves other myths—Daphne, Persephone, Aite—into Arachne's story, tucking a strong feminist message into her lovely writing that is sure to resonate with modern audiences."
— Booklist