Special Education: Poems (Paperback)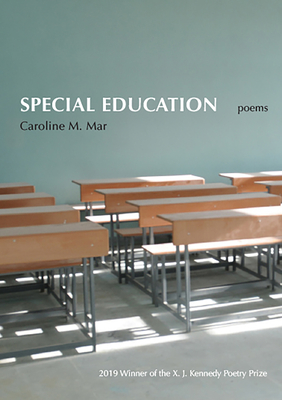 Description
---
Special Education is a powerful collection of poems confronting American identity in the 21st century. In large part, it traces a new teacher's poetic journey to understanding her work and herself. Mar's poems, which move between free verse and received forms, between the "I" of her speaker-narrator and the voices of colleagues, students, and the world around all of them, investigate a variety of topics—how love is expressed by doing something one hates for a partner who loves it, what a charging bear on a camping trip can reveal about gender, the failures of an education system as depicted through colors and images on a slideshow presentation.
The collection closes on a speaker both more and less certain about her place in the world. Her hometown, as she gazes across it in "Views," is changing dramatically as she asks, "Why nostalgia / for a place that is still my place?" By the poem's end, having covered everything from the places where her grandparents died to the effects of the next big earthquake to luxury cars, the speaker has revealed herself to both be inside of and resistant to the machinations of systems that seem prepared to crush her students: education, racism, gentrification, ableism. What does life look like on an everyday scale against the churning of the world? In Special Education, Mar embraces this truth and, in poems that show us what we have yet to learn, employs both her systemic mind and poetic voice to confront the "ugly little loves" that the world makes of us all.
About the Author
---
CAROLINE M. MAR is a high school health educator and poet. A San Francisco local, Carrie is doing her best to keep her gentrifying hometown queer and creative. She is a graduate of the MFA Program for Writers at Warren Wilson College, an alumna of VONA, a member of Rabble Collective, and serves on the board of Friends of Writers. Her writing has appeared in Cimarron Review, New England Review, CALYX, Anomaly, and Storyscape, among others. She has been granted residencies at Vermont Studio Center and Ragdale.
Praise For…
---
"As if the glass-shattering earthquake the poet imagines in today's high-rise San Francisco had entered her language, I found myself profoundly shaken by these powerful poems—by their truthfulness to the experience of our fractured and fractious world of warring identities that want to enlist us against ourselves. And, as she intimately shares the ordeal of trying to teach kids whom 'the world will try/to drown,' her poems utterly transform the meaning of 'special education.'"—Eleanor Wilner