WARD: Poems (The TRP Chapbook Series) (Paperback)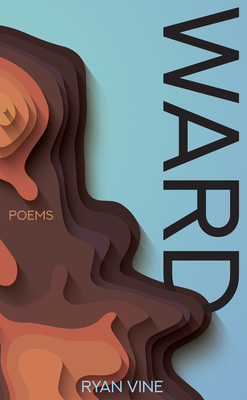 Description
---
The Rumpus, in a review of his work, labeled poet Ryan Vine "a raconteur," and his superior story-telling skills are on full display in WARD. The poems are witty, teeming with dark humor, political, playful, and the sardonic tone is pitch-perfect for our times, when we seem to have forgotten that an important survival strategy is the ability to laugh at ourselves.
In its heart of hearts, WARD is a book about ethos and mythos, about the creation of a character and the investigation of voice. As one critic, Taylor Collier, wrote: "In the tradition of Kees's Crusoe poems, Berryman's Henry poems, and to some degree Yeats's Crazy Jane poems, [Vine] builds a series of poems around a central character as a means of investigating both interior and exterior contemporary realities." 

The TRP Chapbook Series
About the Author
---
RYAN VINE is the author of To Keep Him Hidden, winner of the Northeastern Minnesota Book Award, and the Weldon Kees Award-winning chapbook Distant Engines. His poems have appeared or are forthcoming in The American Poetry Review, Ploughshares, Blackbird, The Rumpus, Poetry Ireland Review, Poetry Daily, Verse Daily, and on National Public Radio. His honors include the Greensboro Review's Robert Watson Poetry Prize, three McKnight/ARAC Career Development Grants, an Artist Initiative Grant from the Minnesota State Arts Board, a Walter E. Dakin Fellowship in Poetry from the Sewanee Writers' Conference, and he has been a finalist or nominee for numerous others, including—selected by Robert Pinsky—the Dorset Prize.  He is professor of English at the College of St. Scholastica in Duluth, MN.
Praise For…
---
"In the traditions of John Berryman's Dream Songs and Weldon Kees' portraits of Robinson, Ryan Vine brings us WARD, a tragi-comedic marvel of the lyric/narrative species. Vine's character Ward has a unique, sardonic take on self-examination—nor does he spare others his laser-like critique. The poet unifies these poems of varying lengths and structures by making them muscularly musical. And the pacing is tight as a steel trap. Vine's metaphors can startle and thrill, as when in "Good Ward Hunting" he brings Thomas Wyatt's erotic images up to the minute in a figure of wounded love. Whether Ward is trapped in a cellphone's "anti-light" or dismal workplace exchange, these poems make us feel for Vine's vivid character and, by art's alchemical extensions, for ourselves."
—Kathleen Winter

"WARD is a wonder, a consuming personality conjured through crisp imagery and deft humor. Poetic persona or alter-ego? Who cares? Ward is as real as a bruise, and as I read these poems, he stumbled into and through me."
—Matt Rasmussen

"In this new chapbook, Ryan Vine charts a course through the enchanting, infuriating modes and mores that construct life in contemporary America: corporate consultation and short-order cooking, short-lived orgies and long-regretted decisions. Imaginative and fresh, WARD is a work of self-discovery."
—J. P. Grasser