Unknown Facts About the Death, Burial, and Resurrection of Jesus Christ Study Guide (Paperback)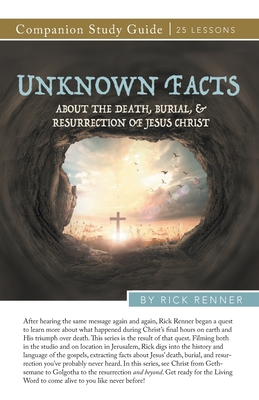 $15.00

Usually arrives at our store within 4-7 days
Description
---
A Revolutionary Look at the Story You Thought You Knew
Have you ever felt the deep pain of betrayal by someone you loved? Do you realize that Jesus felt similar emotions in His humanity - and He understands your pain, your disappointment, and your limitations? In the series "Unknown Facts About the Death, Burial, and Resurrection of Jesus Christ," Rick Renner provides information you've probably never heard about the world's most famous story - along with insights into the heart, emotions, and humanity of Jesus' final days on earth.
The events of Christ's last days and hours reveal practical applications for your own life when you're faced with disappointment, pain, and betrayal. Rick's teachings guide you through an uncommon look into encounters along Christ's journey - from Gethsemane to Golgotha to the resurrection and beyond. This series will enable you to gain a more intimate glimpse into Jesus' final hours and the great love for humanity that He unflinchingly displayed.
Your redemption had a price. In these 25 messages, discover just how completely that price was paid in full
Topics in this 25-part series include:
Wounds of Betrayal
Test of Loyalty, Test of Love
Has Anyone Ever Spit in Your Face?
The Horror of a Roman Scourging
Agony of the Soul
Buried and Sealed
Playing Games at Jesus' Expense
An Empty Tomb
Kiss of Deception
Who Is the Naked Boy in the Garden of Gethsemane?