Which Way Home?: Hester's Hunt for Home, Book Two (Paperback)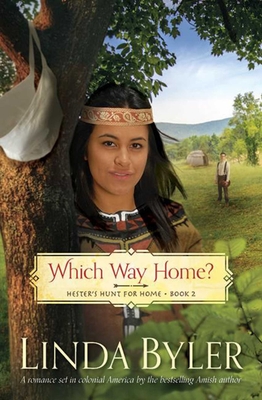 Description
---
Born a Native American, but brought up Amish, Hester Zug, at age 20, flees her Amish home. Her father's too-tender care of her has made her stepmother wildly jealous, and so Hester sets off, knowing only that she can't stay. Hester's natural instincts for navigating the forests in colonial Pennsylvania along with the book of medicines and remedies given to her by an aged Native American woman allow her to survive until she gets sick from drinking river water.

Twice rescued—first by matronly Indian women who find her unconscious in the woods, and then by a boy in downtown Lancaster, where she'd been left for dead by the dreaded Paxton boys—Hester finds herself in the kind, if rough, hands of Emma Ferree. Because of her wide heart, Ferree, a widow, offers her home to fugitives.

The dazzlingly beautiful Hester eventually marries an Amish man, who is more in love with the way she looks than with her heart and mind. And when that childless marriage falters, she is met one day in the fields by Running Bear, a Native American brave who has watched her for years. He asks her to marry him, giving her until wintertime to decide.

Belonging in part to two worlds, but experiencing a subtle yet clear rejection from both, Hester comes to wish that her Amish mother, Kate, had never rescued her.

Author Linda Byler shows the lovely and enduring Hester caring for others as the Amish do, with the use of Native American remedies and tinctures from the old woman's book. Her practices raise accusations of witchcraft from the very people she sets out to help. Byler, an active member of the Amish, centers this second book in the Hester's Hunt for Home series on two anguishing questions: Where is Hester's heart most at home? And can she ever be married happily?

Skyhorse Publishing, as well as our Arcade, Yucca, and Good Books imprints, are proud to publish a broad range of books for readers interested in fiction—novels, novellas, political and medical thrillers, comedy, satire, historical fiction, romance, erotic and love stories, mystery, classic literature, folklore and mythology, literary classics including Shakespeare, Dumas, Wilde, Cather, and much more. While not every title we publish becomes a New York Times bestseller or a national bestseller, we are committed to books on subjects that are sometimes overlooked and to authors whose work might not otherwise find a home.
About the Author
---
Linda Byler grew up Amish and is an active member of the Amish church today. She is the author of five bestselling fiction series, all set in the Amish world: Hester Takes Charge, Lancaster Burning, Sadie's Montana, Lizzie Searches for Love, and The Dakota Series. In addition, Byler has written five Christmas romances: The Little Amish Matchmaker, The Christmas Visitor, Mary's Christmas Good-Bye, Becky Meets Her Match, A Dog for Christmas, and A Horse for Elsie. Linda is also well known within the Amish community as a columnist for a weekly Amish newspaper.