Jesus Says . . . (Board book)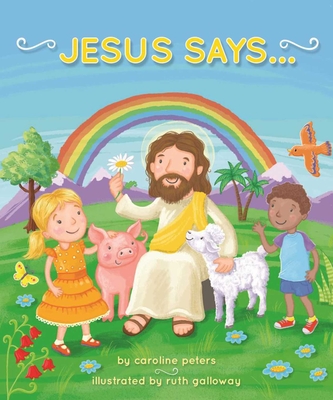 Description
---
This simple but fun book will make it easier for little ones to learn and practice the loving kindness taught by Jesus, as well as create a joyful reading experience for parents and children.

Share the wisdom of Jesus with little ones with Jesus Says . . . In the pages of this sweet book you'll find short explanations of Jesus's most important ideas. Simple teachings such as, "Jesus says . . . be a good friend" and "Jesus says . . . be kind to everyone," are helpful reminders that small children can use to honor Christ's most important teachings.

The sturdy pages of this board book are perfect for toddlers during playtime, bedtime, or anytime! The cheerful pages will delight small children as they discover precious scenes of kindness and generosity. Complete with cute and colorful illustrations showing Christ's fundamental truths in action, each page is a wonderful peek into how children can learn to practice their faith and become closer to God.
About the Author
---
Caroline Peters is an elementary school teacher with two small children of her own. She loves to make up stories and games with her girls to make learning about faith more fun. She and her family reside in a small seaside town outside of Boston, Massachusetts.

Ruth Galloway studied art at A-level but is essentially self-taught. She knew she was going to be an artist from the age of eight and is now a successful illustrator of a number of picture books. She is married with two children and lives in Berkshire, Massachusetts.