Peace of Mind Bible Word Search: Psalms (Paperback)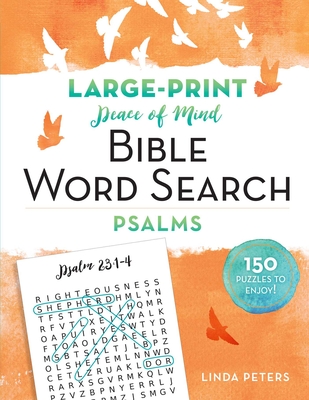 Description
---
150 Large-Print Word Search Puzzles!
Peace of Mind Bible Word Search
combines brain-building fun with the worshipful words of the Psalms. Thanks to large, boldface print, puzzle enthusiasts young and old can enrich their free time finding hidden words and phrases from beloved selections of scripture. From praising God for His might and wonderful works, to calling out to God for help, to experiencing His comfort, each themed word find is a chance for readers to reflect on the Psalms while finding satisfaction in solving a puzzle. Keep your brain sharp, your eyes at ease, and your heart full of God's Word!
Enjoy 150 word search puzzles based around Biblical themes
Highlights some of the most treasured passages and themes of the Bible
Large, bold print prevents eye strain while you test your Bible knowledge!
Complete answer key included
You may find that you're committing each verse to memory as you complete the puzzle! Clean, fun, and just challenging enough, this book is a perfect gift for the puzzler in your life.
About the Author
---
Linda Peters is a teacher, mother, and word lover. She loves a good word challenge and enjoys creating word puzzles for her students. She lives in Manchester-by-the-Sea, Massachusetts.