Glowrushes (Paperback)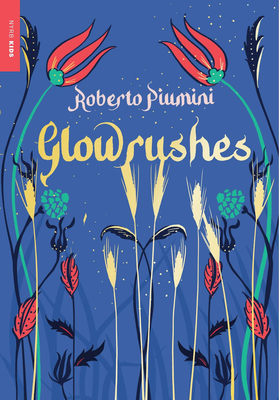 Description
---
A beautiful, wise tale about imagination, chronic illness, and friendship for young readers by an Italy's foremost children's book author.

"I don't think I have read anything like this before – a tale of life, death, love and beauty. . . . I hope this unforgettable story finds all the readers it deserves." —Philip Pullman

Long, long ago, a boy lies confined by sickness to his windowless bedchambers. He can never experience the outside world, never breathe fresh air or feel the warmth of the sun on his skin, so his doting father summons a painter to embellish his rooms with beautiful murals. 
 
The artist sets to work, and soon there is a fabulous world on the walls, a colorful, shifting landscape peopled by shepherds and lovers, criss-crossed by armies and pirate ships. As the boy's health fades, the artist paints on, turning the simple commission into a generous labor of love. Can he show this child the richness and beauty of the world—and of life itself—with nothing but paints and brushes?
 
Glowrushes is a heartbreakingly beautiful classic of Italian children's literature.
About the Author
---
Born in 1947, Roberto Piumini is Italy's foremost living author of children's stories. His books are found in every Italian bookshop and school and have been translated into many languages across the world. He received the Rodari Lifetime Achievement Award in 2020 and has twice been nominated for the Hans Christian Andersen Award. Glowrushes was first published in 1987 and is considered his masterpiece.

Leah D. Janeczko is a translator of Italian literature for readers of all ages. Born and raised in the Chicago area, she has lived in Milan for over three decades.
Praise For…
---
"Once in a great while a book comes along that's equally enthralling for children and the people they call grown-ups — a book playful and accessible enough to hold a young person's attention yet sufficiently resonant and complex to keep a seasoned reader turning its pages, sometimes even while fighting back tears. We label these works children's classics, but really they're a literary wake-up call, as books like Carlo Collodi's The Adventures of Pinocchio and E.B. White's Charlotte's Web reveal their brilliance at every stage of one's reading journey. Roberto Piumini, a legendary Italian author of children's stories, wrote such a book in 1987. Considered his masterpiece, Glowrushes  is now out in a graceful English translation by Leah Janeczko that captures the sprezzatura and spare elegance of the original." —Joseph Luzzi, The New York Times Book Review

"I don't think I have read anything like this before—a tale of life, death, love and beauty....I hope this unforgettable story finds all the readers it deserves." —Philip Pullman

"You see it, feel it, live it as you read. Lyrical, magical, tender and true, and deeply mysterious." —Michael Morpurgo, "Booktrust Best Children's Books of the Year"

"Best for 8 and up, this elegant, moving novella is a classic of Italian children's literature, filled with understatedly exquisite, transporting prose." —Imogen Russell Williams, The Guardian

"The ideal stocking filler for Italophile adults and thoughtful children who don't mind a terribly sad ending (hankies at the ready). Roberto Piumini's books feature in every school and library in Italy. . . . reading this beautiful, if sentimental, story you can see why. . . . let yourself delight in the deepening relationship between the artist and the boy at the heart of this touching, otherworldly, out-of-time novella about friendship, imagination and the power of art." —Alex O' Connell, The Times (UK)