There are no products in your shopping cart.
Please call 626-449-5320 to check the availability of this item.
Frankenstein (MP3 CD)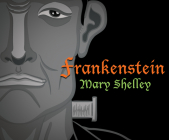 $29.99
Special Order - Subject to Availability
Description
---
Eager science student Victor Frankenstein uses body parts of the dead to bring a creature to life. Although initially excited that his experiment is a success, Frankenstein becomes horrified at the grotesque being that stands before him and flees. Angered by the rejection, The Monster retaliates by taking the lives of those dearest to Frankenstein. The decision to play God torments both Frankenstein and The Monster he created until the end of their days.