A Time to Mourn, a Time to Comfort (2nd Edition): A Guide to Jewish Bereavement (Art of Jewish Living) (Hardcover)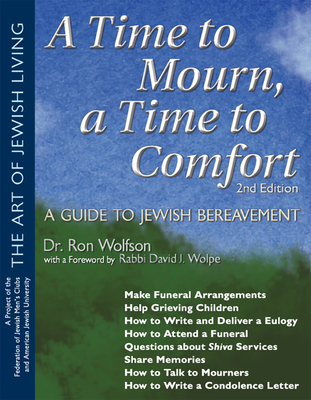 $37.99

Usually arrives at our store within 4-7 days
Description
---
A Step-by-Step Guide for Honoring the Dead and Empowering the Living
When someone dies, there are so many questions--from what to do in the moment of grief, to dealing with the practical details of the funeral, to spiritual concerns about the meaning of life and death. This indispensable guide to Jewish mourning and comfort provides traditional and modern insights into every aspect of loss. In a new, easy-to-use format, this classic resource is full of wise advice to help you cope with death and comfort others when they are bereaved.
Dr. Ron Wolfson takes you step by step through the mourning process, including the specifics of funeral preparations, preparing the home and family to sit shiva, and visiting the grave. Special sections deal with helping young children grieve, mourning the death of an infant or child, and more.
Wolfson captures the poignant stories of people in all stages of grieving--children, spouses, parents, rabbis, friends, non-Jews--and provides new strategies for reinvigorating and transforming the Jewish ways we mourn, grieve, remember, and carry on with our lives after the death of a loved one.
About the Author
---
Dr. Ron Wolfson, visionary educator and inspirational speaker, is Fingerhut Professor of Education at American Jewish University in Los Angeles and a cofounder of Synagogue 3000. He is author of Relational Judaism: Using the Power of Relationships to Transform the Jewish Community; The Seven Questions You're Asked in Heaven: Reviewing and Renewing Your Life on Earth; Be Like God: God's To-Do List for Kids; God's To-Do List: 103 Ways to Be an Angel and Do God's Work on Earth; Hanukkah, Passover and Shabbat, all Federation of Jewish Men's Clubs Art of Jewish Living family guides to spiritual celebrations; The Spirituality of Welcoming: How to Transform Your Congregation into a Sacred Community; A Time to Mourn, a Time to Comfort: A Guide to Jewish Bereavement and Comfort and, with Rabbi Lawrence A. Hoffman, What You Will See Inside a Synagogue (all Jewish Lights), a book for children ages 6 and up. He contributed to May God Remember: Memory and Memorializing in Judaism-Yizkor, Who by Fire, Who by Water-Un'taneh Tokef, All These Vows-Kol Nidre and We Have Sinned: Sin and Confession in Judaism-Ashamnu and Al Chet (all Jewish Lights).