A Warning About Swans (Hardcover)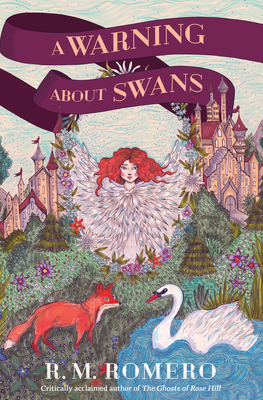 Description
---
Swan Lake meets The Last Unicorn by way of the Brothers Grimm in a dreamy, original fairytale.

Acclaimed author R.M. Romero spins an enchanting tale in elegant verse about the search for belonging, and ultimately, empowerment. Perfect for fans of Uprooted and The Bear and the Nightingale.

"Dreamy, melancholy, and pensive. . . ."—NPR

Bavaria. 1880. Hilde was dreamed into existence by the god Odin and, along with her five sisters, granted cloaks that transform them into swans. Each sister's cloak is imbued with a unique gift, but Hilde rejects her gift which allows her to lead the souls of dying creatures to the afterlife.

While guiding the soul of a hawk, Hilde meets the handsome Baron Maximilian von Richter, whose father left him no inheritance. Hilde is intrigued by Richter's longing for a greater life and strikes a deal with him: She will manifest his dreams of riches, and in return, he will take her to the human world, where the song of souls can't reach her.

But at the court of King Ludwig II in Munich, Hilde struggles to fit in. After learning that fashionable ladies are sitting for portraits, she hires non-binary Jewish artist Franz Mendelson, and is stunned when Franz renders her with swan wings. The more time she spends with Franz, the more she feels drawn to the artist's warm, understanding nature, and the more controlling Richter becomes. When Hilde's swan cloak suddenly goes missing, only Franz's ability to paint the true nature of souls can help Hilde escape her newfound prison.

A Warning About Swans weaves poetry into myth with spellbinding verse. Familiar as a Grimm tale and beautiful as a fairytale, but darker and more lyrical. The perfect fantasy to cozy up with and be whisked away to real-world enchanted castles.
About the Author
---
R.M. Romero is a Jewish Latina and author of fairy tales for children and adults. She lives in Miami Beach with her cat, Henry VIII, and spends her summers helping to maintain Jewish cemeteries in Poland. You can visit her online at rrmromero.com or on Instagram @rmromeroauthor.
Praise For…
---
"Dreamy, melancholy, and pensive. . . ."—NPR

★ "The blend of elements from 'Swan Lake,' Germanic folklore, and Norse mythology is richly harmonious, presenting a beautifully wrought surface beneath which (as in all good fairy tales) layers of meaning reward those willing to dive."—The Bulletin for the Center of Children's Books, Starred Review

"With its lush language and modern themes, [A Warning About Swans] is a relevant, whimsical fairy tale in verse. . . . R.M. Romero (The Ghosts of Rose Hill) incorporates contemporary themes of self-acceptance, patriarchal culture, and gender into an original fairy tale that is immersive and picturesquely written."—Shelf Awareness

"The story smoothly melds contemporary understandings of gender equality, exploration, and representation with fairy tale–like ambiance and language, making for a gratifying read"—Publishers Weekly

"Filled with romance and betrayal, enchantment and the natural world, this will appeal to fairy-tale lovers everywhere."—Booklist
 
"Fairy tales and myths form a seamless whole in R. M. Romero's fantasy novel A Warning about Swans. . . . Echoes of Swan Lake and folktales about animal bride transformations infuse the story with folklore. Written in prose poetry, it leaps across the page in italics and indentations, mimicking the flights of Hilde and her sisters. . . . Grounded in history and myths, A Warning about Swans is a dreamy, eloquent fairy tale with timeless reflections on love, duty, and betrayal."—Foreword Reviews

"R.M. Romero has woven a powerful, moving fairytale about finding belonging in the in-between and holding onto magic in a cruel world. A Warning About Swans carried me from hope to despair and back again on the wings of dreamy, wrenching verse. Entirely spellbinding." —Allison Saft, New York Times bestselling author of A Far Wilder Magic
 
"An absolutely gorgeous book with words that dance across the page in shining verse. I wanted to linger with Hilde and Franz in their world even after the story came to an end. Utterly magical!" —Kip Wilson, award-winning author of The Most Dazzling Girl in Berlin

"Enchantment, love, danger, passion, and power, A Warning About Swans is an unforgettable story, perfectly woven and hugely accomplished, both fresh and timeless, like a forgotten Grimm tale given a dazzling new life. This has confirmed Romero as one of my all-time favorite writers." —Sophie Anderson, award winning author of The House with Chicken Legs

Praise for The Ghosts of Rose Hill

"A story of deep hurts delivered with a very gentle, kindly touch."—NPR

★ "A must-read for lost souls everywhere."—Kirkus Reviews, Starred Review

★ "An intoxicating blend of the contemporary and otherworldly."—Publishers Weekly, Starred Review

★ A modern folktale, a love letter to the diaspora, and a unique novel-in-verse."—School Library Journal, Starred Review

★ "[A] wistful and deeply symbolic tale of feeling seen and finding powerful connections to the past."—Shelf Awareness, Starred Review