Grassroots Baseball: Route 66 (Hardcover)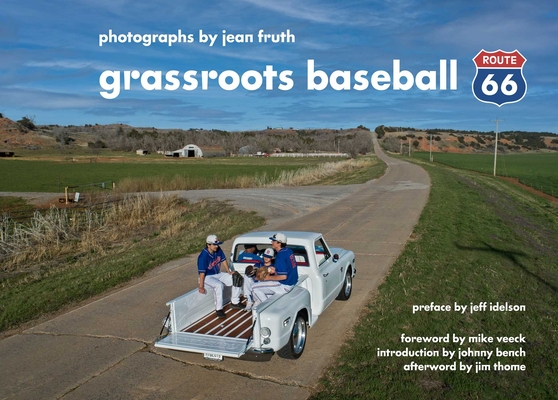 Description
---
Just as baseball is at the heart of America, so too is Route 66. This book is a photographic tribute to the national pastime along the artery that stretches from the shores of Lake Michigan, close to where the Cubs play, to the Pacific Ocean at Santa Monica, where baseball memories and players abound. Among the players who will guide readers on the journey will be baseball greats George Brett, Billy Hatcher, Alex Bregman, and Ryan Howard. Leading off will be Johnny Bench of Binger, Oklahoma, and cleaning up will be Jim Thome of Peoria, Illinois.

In Grassroots Baseball: Route 66, photographer Jean Fruth weaves more than 250 full-color images of the national pastime along the historic highway into a tapestry that reminds us of the heart and soul of America.

Route 66 passes through eight states in its journey to the Pacific, and each chapter opens with a first-person essay by a baseball legend from that locale recounting his early memories of playing the game, and what it was like growing up along the Mother Road. That highway took stars like George Brett, Billy Hatcher, Alex Bregman, Adam LaRoche, and Ryan Howard to faraway places they only dreamed about as kids.

Each chapter documents the route they took, from sandlots, ranches, and beaches to ballparks at every level of organized baseball, from Little League games to the World Series. With an introduction by Johnny Bench, a foreword by Mike Veeck, a preface by retired Hall of Fame President Jeff Idelson, and an afterword by Jim Thome, this book touches all the bases for any and every baseball fan.
About the Author
---
Jean Fruth's trajectory as one of baseball's preeminent photographers has taken her on a round-the-horn tour of the sport's most indelible landmarks. After covering Bay Area sports, Jean became the traveling photographer for the National Baseball Hall of Fame and Museum, and then for their partner, La Vida Baseball. Jean's non-profit organization, Grassroots Baseball, celebrates and promotes the amateur game around the globe. She is recognized by Sony as one of its 45 Sony Artisans of Imagery, world-wide. Her first book, Grassroots Baseball: Where Legends Begin, was released in June 2019.

Jeff Idelson's career as a baseball executive spanned 34 years with the Boston Red Sox, New York Yankees and the National Baseball Hall of Fame and Museum. After eight years in public relations with the two American League rivals, he joined the staff in Cooperstown in 1994, spending 26 years with the venerable organization. He served as President for 12 years, overseeing the daily operation of the non-profit, educational institution and its staff of 90 employees. The Boston native, who cut his teeth as a vendor at Fenway Park, retired from the Hall of Fame in 2019 to co-found Grassroots Baseball, a non-profit organization that celebrates the amateur game around the globe and grows interest and participation at the youngest levels.

Mike Veeck's name has been synonymous with fun at the ballpark for the last half century. After a career as a major league executive with the White Sox, Tigers, and Rays, the current president and co-owner of the St. Paul Saints continues to blaze new trails every baseball season. His first book, Fun is Good, came out in 2005, and served as his inspiration to start an organization by the same name that's mission is to create more fun and joy in the workplace. The Veeck family has been involved in baseball for more than 100 years, as Mike's grandfather was president of the Chicago Cubs starting in 1919, and his father, Bill, owned the St. Louis Browns, Cleveland Indians, Chicago White Sox, and the then-minor league Milwaukee Brewers before eventually earning election to the Baseball Hall of Fame.

Johnny Bench is considered one of the greatest catchers in baseball history. The winner of two National League MVP awards and 10 consecutive Gold Gloves, Bench spent his entire 17-year career in a Cincinnati Reds uniform and led the Big Red Machine to back-to-back World Series championships in 1975 and 1976. The pride of Binger, Oklahoma was elected to the Baseball Hall of Fame in 1989.

Jim Thome, ​a left-handed slugger with prodigious power, slugged 612 home runs, thanks to 12 seasons in which he hit 30 or more. During an illustrious 22-year major league career, the native of Peoria, Illinois drove in 1,699 runs, led Cleveland to a pair of American League pennants, and became the eighth player to reach the 600 home run plateau, requiring the second fewest at bats to do so. He was elected to the Baseball Hall of Fame in 2018.
Praise For…
---
"Baseball is the road that runs through America's heartland. Just like Route 66. Jean's photos are the perfect way to travel it." --Singer/songwriter/entertainer Toby Keith

"The grassroots game is where our dreams are formed and cultivated. Jean Fruth's beautiful and compelling photographs not only paint a picture of our childhoods, but also take us on the ultimate baseball road trip." --Hall of Famer Cal Ripken, Jr.