Queen of the Ring: Wrestling Drawings by Jaime Hernandez 1980-2020 (Hardcover)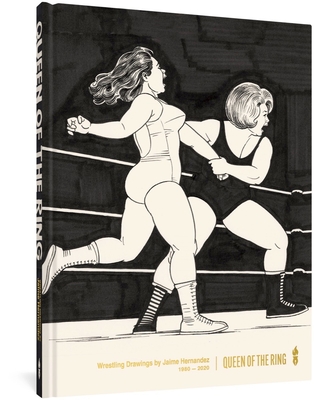 Description
---
For the past 40 years, acclaimed graphic novelist Jaime Hernandez has been creating a Love and Rockets-adjacent world — set in the heyday of 1960s and '70s women's wrestling and lucha libre! — with an entirely separate cast of characters who have aged and evolved: the beautiful and brutal Bettie Rey, the I.F.W. Pacific Women's Champion — a.k.a. Golden Girl — as well as former champions Pantera Negra, Miss Kitty Perez, and many more. 
As Hernandez puts it, "It's my
Love and Rockets
world that's not my
Love and Rockets
world." This best-of book spotlights the women who are often ignored in pro wrestling in 125 full color illustrations: pin-ups, action shots, fake wrestling magazine covers, all presented in a deluxe hardcover that echoes the lucha libre magazines of the 1960s. Hernandez also discusses the work in an interview with fellow cartoonist Katie Skelly.
Despite having created one of the most expansive and remarkable casts of characters of any cartoonist who ever lived (under the umbrella of the ongoing
L&R 
comic book series), acclaimed graphic novelist Jaime Hernandez — Will Eisner Hall of Famer; Eisner, Harvey, Ignatz, and PEN Award winner;
L.A. Times 
Book Prize winner; and on a very short list of contenders for the title of America's Greatest Living Cartoonist — has been privately amassing a body of work that no one else has ever seen for over 40 years. Until now.
About the Author
---
Jaime Hernandez was one of six siblings born and raised in Oxnard, California. His mother passed down a love of comics, which for Jaime became a passion rivaled only by his interest in the burgeoning punk rock scene of 1970s Southern California. Together with his brothers Gilbert and Mario, Jaime co-created the ongoing comic book series Love and Rockets in 1981, which Gilbert and Jaime continue to both write and draw to this day. Jaime's work began as a perfect (if unlikely) synthesis of the anarchistic, do-it-yourself aesthetic of the punk scene and an elegant cartooning style that recalled masters such as Charles M. Schulz and Alex Toth. Love and Rockets has evolved into one of the great bodies of American literary fiction, spanning five decades and countless high-water marks in the medium's history. In 2016, Hernandez won the prestigious Los Angeles Times Book Prize for his graphic novel, The Love Bunglers. In 2017, he (along with Gilbert) was inducted into the Will Eisner Comic Book Hall of Fame, and, in 2018, he released his first children's book, the Aesop Book Prize-winning The Dragon Slayer: Folktales from Latin America. He is a lifelong Angeleno.

Katie Skelly is a Los Angeles-based cartoonist whose comics include Nurse Nurse (SparkplugBooks, 2012), Operation Margarine (AdHouse Books, 2014), My Pretty Vampire (Fantagraphics,2017), and Maids (Fantagraphics, 2020). She has written and lectured about comics for outlets such as The Comics Journal, Fantagraphics Books, Japan Society, The Center for Cartoon Studies, Fordham University, and The New School.  She also co-hosts the podcast Thick Lines with fellow cartoonist Sally Madden. Skelly holds a B.A. in Art History from Syracuse University, and was awarded the Emerging Artist Prize at Cartoon Crossroads Columbus in 2015.
Praise For…
---
Hernandez shows off his trademark crisp draftsmanship and genius for character drawing in this art book devoted entirely to portraits of women wrestlers, in action and pin-ups. A rare opportunity to see a master cartoonist's work evolve over the decades. ... Any art comics follower would enjoy a round in this ring.
— Publishers Weekly

In Queen of the Ring, 1960s LA women's wrestling comes to life.

— LAist

If you love art, comic books, and pro wrestling too, you will dig Queen of the Ring.

— Voices of Wrestling

Hernandez has created an entire world of characters spun from his imagination. And now the rest of us are lucky enough to get to meet them. This is more than just an art book; it's an incredibly intimate look at an artist's creative process.
— Syfy Wire

In Queen of the Ring, Hernandez rightfully makes women wrestlers the main event.

— CNMN Magazine

We are truly blessed to have a book like Queen of the Ring to give space for Hernandez himself to articulate his passion

— The Comics Journal