Smithsonian Kids All Star Readers: Reptiles Level 2 (Smithsonian Kids All-Star Readers) (Paperback)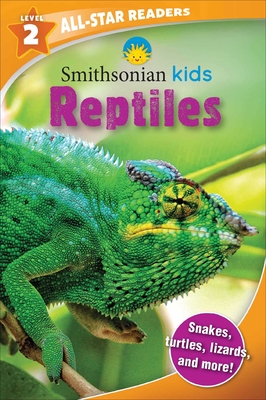 Description
---
Did you know there are more than 8,000 types of reptiles in the world? Can you guess which one is the biggest? Find out the answers to these questions and more in this fact-filled paperback leveled reader that's all about reptiles!

Developed in collaboration with the Smithsonian and esteemed literary childhood expert Dr. Adria Klein, Smithsonian Kids All-Star Readers: Reptiles Level 2 is designed to encourage reading comprehension while introducing reptiles living around the world. Children will learn about many reptiles—everything from iguanas to tortoises—while building reading skills with the carefully designed leveling structure and glossary. After reading this introduction to nonfiction, children can use the included quiz to reinforce reading comprehension.
About the Author
---
Brenda Scott Royce is a lifelong lover of beasts and books—and whenever possible her work combines the two. She's served as editor of Zoo View, the award-winning magazine of the Los Angeles Zoo, for more than a decade. Her children's books include two titles in the ASPCA's Pet Rescue Club series— Champion's New Shoes and Bailey the Wonder Dog. Her award-winning comedic novels Monkey Love and Monkey Star chronicle the misadventures of Holly Heckerling, a stand-up comedienne who befriends a monkey while juggling career and romantic entanglements. Brenda likes to say that she majored in monkeys in college (she earned a bachelor's degree in primatology and anthropology from California State University, Fullerton) and that some of her best friends are chimpanzees (she worked as a chimp keeper at a wildlife sanctuary). She lives in Glendora, California.