Come and Hear: What I Saw in My Seven-and-a-Half-Year Journey through the Talmud (Hardcover)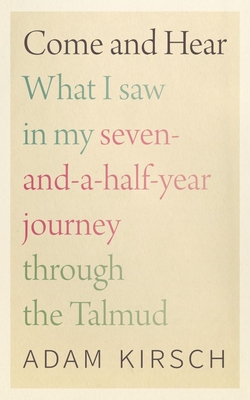 Description
---
A literary critic's journey through the Talmud.
 
Spurred by a curiosity about Daf Yomi—a study program launched in the 1920s in which Jews around the world read one page of the Talmud every day for 2,711 days, or about seven and a half years—Adam Kirsch approached Tablet magazine to write a weekly column about his own Daf Yomi experience. An avowedly secular Jew, Kirsch did not have a religious source for his interest in the Talmud; rather, as a student of Jewish literature and history, he came to realize that he couldn't fully explore these subjects without some knowledge of the Talmud. This book is perfect for readers who are in a similar position. Most people have little sense of what the Talmud actually is—how the text moves, its preoccupations and insights, and its moments of strangeness and profundity. As a critic and journalist Kirsch has experience in exploring difficult texts, discussing what he finds there, and why it matters. His exploration into the Talmud is best described as a kind of travel writing—a report on what he saw during his seven-and-a-half-year journey through the Talmud. For readers who want to travel that same path, there is no better guide.
 
About the Author
---
Adam Kirsch is a poet and literary critic. He is the author of three collections of poems and several books of criticism and biography, including, most recently, The People and the Books: 18 Classics of Jewish Literature and The Blessing and the Curse: The Jewish People and Their Books in the Twentieth Century. He is an editor at the Wall Street Journal's Weekend Review section.
Praise For…
---
"Kirsch gives a tantalizing taste of what reading and seriously grappling with the Talmud is like."
— Publisher's Weekly, starred review

"If you're considering delving into the Talmud, you might want try "Come and Hear" first. It's an excellent introduction."
— Aaron Leibel

"Kirsch wanted to fill the "Talmud-sized gap" in his Jewish understanding, and his readily digestible essays on the forty Talmudic tractates of the Daf Yomi cycle in Come and Hear efficiently offer this service to his readers."
— TLS

"Once again the brilliant and indefatigable Adam Kirsch, one of America's best literary critics, has done the world a great public service. Come and Hear invites us into the world of the Talmud, one of literary history's most daunting and least accessible texts. Kirsch doesn't merely explain or introduce readers to this world; he shows us why it's a world worth exploring, for anyone who cares about how human beings think. Welcome."
— Dara Horn, author of People Love Dead Jews

"It's no small feat that Adam Kirsch manages to make a labyrinthine text accessible, an ancient conversation eminently alive. Come and Hear is a rare and invaluable doorway into the long-standing house many of us have felt hesitant to enter: the Talmud. Kirsch makes the rabbinic sages feel like recognizable relatives, and the parsing of legal minutiae feel like thrilling detective work. His writing is crisp and clear, even his chapter headings are inviting. Just as the author confides that 'doing Daf Yomi was by far the most important Jewish experience of my adult life,' reading Kirsch's book may be one of yours."
— Abigail Pogrebin, author of My Jewish Year: 18 Holidays, One Wondering Jew

"Come and Hear is a clear and incisive introduction for new swimmers in the vast sea of Talmud and for veteran students of its pages who appreciate fresh insights into ancient debates and the rabbinic mindset behind them. Adam Kirsch has placed his own captivating voice into an enduring, quirky, and arcane conversation and remarkable textual reclamation project that has brought ancient wisdom in contact with modern life."
— Dr. Erica Brown, Mayberg Center for Jewish Education and Leadership, The George Washington University

"Come and Hear entices readers to sample the fruits of Kirsch's 7 ½-year Talmud regime, which includes its quirkiest tidbits and the staples of rabbinic debate and wisdom. A joy to read--and a surefire enticement to savor the pleasures of Talmud for oneself."
— Rabbi Vanessa Ochs, University of Virginia

"This beautiful book aims to capture what the Talmud actually is. Come and Hear is helpful, clear, practical, and detailed---and always engaged in conveying the fundamental uniqueness of the Talmud, which Adam Kirsch movingly calls its own genre. This is a love song to the 'freedom to learn without the obligation to agree,' and a living example of the Talmud's central role in Jewish continuity—in Hebrew, Aramaic, and now, in a leading contemporary critic's hands, in English."
— Aviya Kushner, author of Wolf Lamb Bomb