Floral Wonderland: A Blooming Coloring Retreat (Paperback)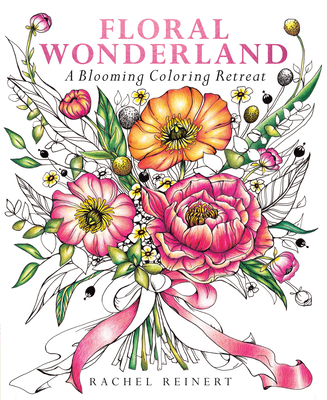 Description
---
Artist and bestselling author Rachel Reinert creates a sumptuous collection of gorgeous blooms and bouquets to color. Floral Wonderland explores the endless beauty of flowers and their myriad possible arrangements. The designs include: -Seasonal bouquets
-Arrangements from around the world
-Wide variety of blooms: classic cultivated flowers, wildflowers, woodland blooms, dried flowers, and more
-Bridal bouquets and arrangements
-Different style vases, pitchers, wreaths, sheaves, and a terrarium The drawings include variations such as bouquets from different perspectives, very simple arrangements, and overabundance, giving colorists choices on how long they want to spend coloring.
About the Author
---
Rachel Reinert studied to become an art teacher at California State University, Fullerton. She is now a full-time artist whose work has been commissioned by businesses, places of worship, interior designers, and individuals nationally and internationally. She is the author of two coloring books, Botanical Wonderland and Desert Wonderland, and two art-instruction books, Color Workshop and In Bloom. She lives in Portland, Oregon, with her husband and daughter. Visit her at rachelreinert.com