Words of Encouragement (Paperback)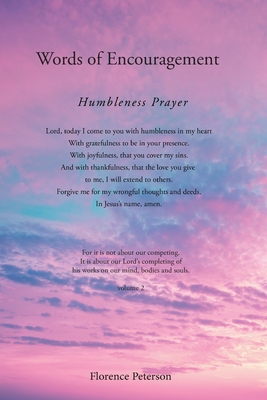 $12.95

Usually arrives at our store within 4-7 days
Description
---
Words of Encouragement is a melody of poems, which were written to remind us that life is not all about gloom and doom. I am here to tell you that there is a way, and his name is Jesus Christ, our Lord and savior. He is the "light in this dark world that we presently live in."
My words are written to tell us it is time to awaken to his many grace, mercies, and blessings we are receiving. And for those who have received, they should be the most grateful. Our lives will always be about the uncertainties, which keeps us oftentimes in fear.
Let us find a rejoicing heart, a quiet soul, and the peace of mind that is given by our Lord. Come out from under the darkness. Are we not tired of our lifeless bodies? What are we hiding from? Where we are hiding from? What is holding you back? Our Lord can fix it all.
These are questions we need to take time to ponder upon. So if you believe that by faith you are being called, take the challenge and answer the call. Our Lord is He who saves us. Remember the many times he has saved us even from ourselves.
So again I am asking you to answer the wake-up call. Our time is now, while hope is alive. While grace and mercies abound. Our Lord is the "light" at the beginning and the end of that tunnel you are lost in.
Seek that everlasting love, peace, and joy by believing that God is your only source and resource.
I hope you enjoy the book and wish to encourage you, to make changes where changes need to be made. May God bless you all.