Writing Prompts for Kids: A Creative Workbook for Ages 7 to 9 (Paperback)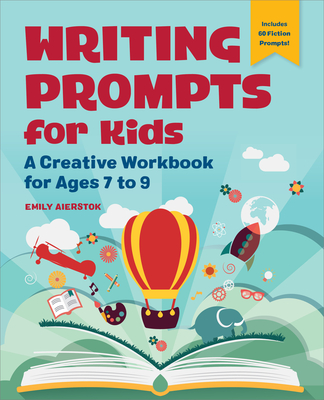 Description
---
Inspire kids to bring their ideas to life with creative story prompts for ages 7 to 9
The world's best authors all have one thing in common: practice! This workbook features 60 fun writing prompts for kids that will help them build their writing skills and explore new ideas. With each one, they'll spark their curiosity and creativity as they craft original stories with confidence.
60 awesome writing prompts—From superheroes to time travel to floating castles, kids can try their hand at story starters that push the limits of their imagination.
Tips for better storytelling—Kids will discover what makes a good story, including character development, narrative structure, and unique settings.
Encouraging messages—Motivational advice helps kids continue developing their voice and talents!
Supercharge your child's storytelling skills with this guide to creative writing for kids.
About the Author
---
EMILY AIERSTOK is a writer and middle school English language arts teacher from the Capital Region of upstate New York. She received her master's degree in English education from the University of Albany. She's passionate about creating engaging curricula that helps kids fall in love with reading and writing.
Praise For…
---
"For busy parents who want to engage their kids in creative writing, the challenge of finding a low-prep, high-impact creative writing workbook is over! Emily's expertise as an experienced English language arts teacher and mom of three is put on display in Writing Prompts for Kids. Kids ages 6 to 9 will delight in the fun activities, and parents will love how easy it is to engage their little ones in creative thinking! As a literacy professor and mom of a 6-year-old and 9-year-old, I highly recommend this book for parents and their kids!" —Jenna Copper, Ph.D., assistant professor of secondary education - literacy, author of Keeping the Wonder

"This book makes teaching writing to young students both fun and possible. With writing secrets hidden throughout, struggling writers will feel like superheroes while working through its colorful activities and exercises. Step by step strategies and helpful vocabulary make this workbook a win for both teachers and students alike." –Jessica Martin, Founder and Creator of Whimsical Teaching, and K-5 Librarian