200 Smart Codewords: A Puzzle Book For Adults: Volume 1 (Paperback)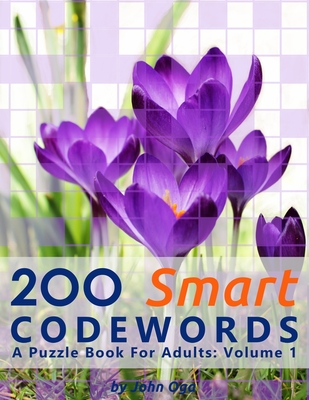 $8.89

Usually arrives at our store within 4-7 days
Description
---
200 Smart Codewords: A Puzzle Book For Adults: Volume 1
200 Codeword Puzzles: 15x15 grid in large senior friendly format; 4.4"x 4.4" with 4 or 3 Letter Hints and 6 jumbled word clues each; for novice or experts. Similar to crossword puzzles, but here the concept is a little simpler. You do not need prior knowledge, just pick up the pencil and eraser and you are ready to roll armed with logic and vocabulary. Each number represents a letter, so, starting with the solved letters, use your logic and vocabulary to reveal more letters, form words, and so crack the code. Additional puzzle solving techniques are given in the book. This is no ordinary Codeword Puzzle Book because:
Senior friendly big 4.4"x 4.4"; 15x15 puzzle grid.
Four or three letter hints given to start you off.
And if you are new or find the puzzle difficult, additionally six words which are in the puzzle are given in a jumbled form, you have to descramble them and use them in the correct places. Do not use them unless you are desperate, and that too one by one as needed.
Full solutions include both the Word grid and Code grid with Code solutions in the rear.
Happy solving and enjoy the large clear professionally set puzzles.