Narcissistic Mothers: The Complete Guide to Understanding and Healing the Daughters of Narcissistic Mothers, Healing Covert Emotional Abuse, (Paperback)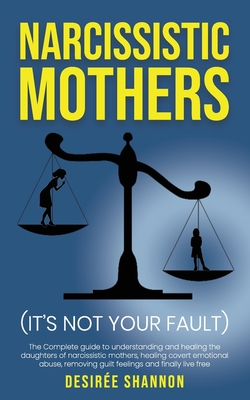 $13.99

Usually arrives at our store within 4-7 days
Description
---
Recovering from a narcissistic mother is possible. It's time to begin your journey to a healthier, happier future.
When your mother abused you, bullied you, neglected you, and used you for her selfish gain, it was not your fault. When she made you feel trapped and like there was nowhere else for you to go, it was not your fault. And when you realized your toxic relationship with her ruined other relationships in your life, it was not your fault.
Daughters of narcissistic mothers often find themselves growing up feeling massive amounts of pain, confusion, and fear in their lives. They tend to attract toxic relationships, lack self-esteem, and suffer a plethora of other painful emotional and mental symptoms.
But healing from the past's trauma is possible, and you can learn to find a healthier way through life. With this guide, you'll learn how you can finally break free and recover from narcissistic abuse. You'll be able to identify the signs and symptoms of a narcissist, rebuild your mindsets and subconscious beliefs, re-evaluate your current relationships with your mother and other people, and begin your journey to a brighter future.
You'll discover:
What Are The Signs of Narcissistic Personality Disorder?
The Narcissistic Mother - a Profile
How to Free Yourself and Heal From Abuse
Deciding on The Future of Your Relationship
How to Set Boundaries and Heal From Trauma
Seeking Therapy - How to Find a Therapist for You
Evaluating Your Other Relationships and Thinking About the Future
And Much More
With insightful advice on rebuilding your life and healing from the trauma of the past, as well as tips for building a supportive social circle and learning to recognize the signs of abuse in the future, this book is a must-have for any woman that is looking to end the cycle and heal from her mother's abuse, once and for all.
Buy now to discover how you can free yourself from the past and begin your journey to a brighter future today