Cursive Handwriting Practice: Uppercase & Lowercase Alphabet - Cursive Handwriting Workbook for Teens (Workbook to Practice) (Paperback)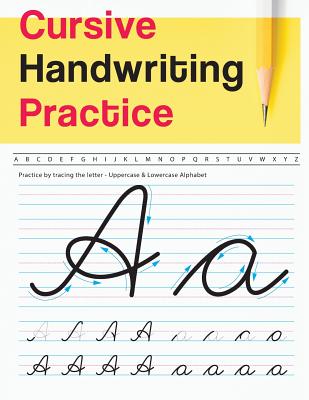 Description
---
Cursive Handwriting Workbook for Teens
No teen likes to spend their leisure time working on their handwriting, much less practicing in cursive script. They would rather spend it on their tablets or watching TV That is why a handwriting workbook needs to have a bit of fun thrown in, just like this one.
-Handwriting for teens in cursive script is important as it is a smooth writing style that facilitates the learning of spelling and vocabulary, and this workbook helps them to accomplish that feat.
-The writing cursive workbook is meant to inspire teens and pique their interest when it comes to learning and practicing cursive writing. Learning this script doesn't have to be dull and boring - this cursive workbook proves that the basics can be grasped in a fun manner, so teens are interested to practice more rather than parents having to coax them into doing so.
-Since teens enjoy writing certain age-appropriate sentences, exercises like these ensure that learning is enjoyable, even at home. This is a great opportunity for teens to improve their cursive writing fluency, as the sentences are prepared with a teenage audience in mind.
-This cursive handwriting workbook for teens contains uppercase and lowercase letters, so tens can boost their skills in both areas.
-A common problem faced by parents is when their child's handwriting seems like a mess, and all efforts aimed at improvement go to waste. Since cursive script is a beautiful writing style, it resolves this issue as the writing slowly becomes clear and legible with sufficient practice. With regular practice, you will notice a marked improvement in their handwriting skills, while they enjoy reading and writing these phrases and sentences. Place your order without further delay Cursive handwriting practice workbook for adults will soon be available - keep watching this space for more news.