Me and White Supremacy: A Guided Journal: The Official Companion to the New York Times Bestselling Book Me and White Supremacy (Paperback)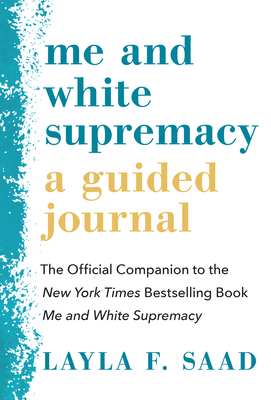 $14.99

Usually arrives at our store within 4-7 days
Description
---
Combat Racism, Change the World, and Become a Good Ancestor with Me and White Supremacy
Author Layla F. Saad wrote Me and White Supremacy to encourage people who hold white privilege to examine their (often unconscious) racist thoughts and behaviors through a unique, 28-day reflection process complete with journaling prompts. This guided journal, which includes the book's original weekly prompts and lots of space for note-taking and free-writing, is the perfect place to begin your antiracism journey. You will unpack:
Week One: White Privilege; White Fragility; Tone Policing; White Silence; White Superiority; White Exceptionalism
Week Two: Color Blindness; Anti-Blackness against Black Women, Black Men, and Black Children; Racist Stereotypes; Cultural Appropriation
Week Three: White Apathy; White Centering; Tokenism; White Saviorism; Optical Allyship; Being Called Out/Called In
Week Four: Friends; Family; Values; Losing Privilege; Your Commitments.
Awareness leads to action, and action leads to change. Create the change the world needs by creating change within yourself.
About the Author
---
Layla Saad is a globally respected writer, speaker and podcast host on the topics of race, identity, leadership, personal transformation and social change.
As an East African, Arab, British, Black, Muslim woman who was born and grew up in the West, and lives in Middle East, Layla has always sat at a unique intersection of identities from which she is able to draw rich and intriguing perspectives. Layla's work is driven by her powerful desire to 'become a good ancestor'; to live and work in ways that leave a legacy of healing and liberation for those who will come after she is gone.
Me and White Supremacy is Layla's first book. Initially offered for free following an Instagram challenge under the same name, the digital Me And White Supremacy Workbook was downloaded by close to ninety thousand people around the world in the space of six months, before becoming a traditionally published book. Layla's work has been brought into homes, educational institutions and workplaces around the world that are seeking to create personal and collective change.
Layla earned her Bachelor of Law degree from Lancaster University in the United Kingdom. She lives in Doha, Qatar with her husband, Sam, and two children, Maya and Mohamed. Find out more about Layla at www.laylafsaad.com.