There are no products in your shopping cart.
Please call 626-449-5320 to check the availability of this item.
Stonewall: Our March Continues (Hardcover)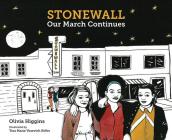 $15.99
We Can Order This For You
Description
---
The story of an historical moment in the civil rights movement for people of all genders and sexualities. In the 1960s, when simply being yourself could be risky, the Stonewall Inn in New York became a treasured place where people could come together to freely be themselves.
On a hot summer night in June of 1969, the Stonewall Inn was raided by police. Although raids were common, this night things were different. The Inn was destroyed. A special place of safety was suddenly taken away. The patrons were harassed, shoved, and many were arrested.
The youth decided enough is enough. They stood up to demand the freedom they knew they deserved. A riot was sparked. A civil rights movement was launched.
This beautifully illustrated book introduces a critical moment in the journey for equal rights for LGBTQ people. Written in a way that young readers will understand and older readers will appreciate. Discussion questions, historical notes, and key vocabulary are included to help readers connect this historic moment to their own experiences and current events.