Married to the Rabbi: Sixty Spouses of Retired Reform Rabbis in Their Own Words (Paperback)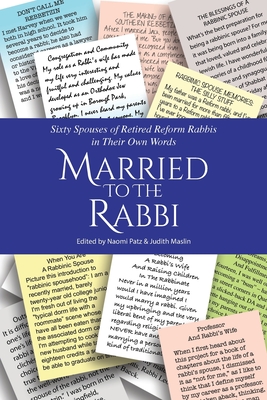 $24.99

Usually arrives at our store within 4-7 days
Description
---
"Married to the Rabbi is a sometimes delightful, sometimes upsetting, but always interesting view into the world of the Reform rabbi's spouse and family in a period of American Jewish life that is already becoming history. That world -- and the role rabbinic spouses have played in it -- too often has been both misunderstood and undervalued. Naomi Patz and Judith Maslin have assembled and edited a fascinating book."
Jeffrey Stiffman, Rabbi Emeritus of Congregation Shaare Emeth in St. Louis, Missouri is immediate past president of THE NATIONAL ASSOCIATION OF RETIRED REFORM RABBIS.
This volume describes how the role of the rebbetzin has changed in the past seventy years. Cognizant of the significance of their lives as rabbis' spouses, fifty-nine women (and one man) have documented their experiences for future generations. What a treat to hear their voices Their moving, funny, and insightful stories add vital texture to our understanding of the history of American Judaism since World War II, a time of major changes. The essays portray the many ways in which rabbis' spouses -- some of whom are proud to call themselves "rebbetzin" and others who totally reject the title (if not the role) -- have played a key function in furthering Jewish life.
Their essays give us a rich appreciation of the significant role that Reform rabbis' wives played in the expansion of American Jewish synagogue life and the opportunities marriage to a rabbi provided for women who felt called to religious leadership in the era before they could become rabbis. Consciously or not, they have modeled female religious leadership for future generations of American Jewish women and thus paved the way for the talented women rabbis and communal leaders who enrich the Jewish world today.
Dr. Shuly Rubin Schwartz, author of the award winning The Rabbi's Wife: The Rebbetzin in American Jewish Life, is Provost of the Jewish Theological Seminary and Irving Lehrman Professor of American Jewish History.
EXCERPT from Married to the Rabbi
Adapted from the essay THE RABBI'S WIFE by Janice Rothschild Blumberg
"The most traumatic event of my life with Jack began when the telephone awakened us shortly after seven o'clock on Sunday morning, October 12, 1958. He scurried to my side of the bed to answer. After a long, horrified, 'Oh, no ' followed by, 'I'll be right there, ' he put down the receiver and told me, 'The Temple's been bombed.'
The news spread quickly. President Dwight Eisenhower mentioned it later in the morning at a largely Jewish political rally in New York. From then on, our telephone rang without pause. I couldn't leave it even long enough to get a cup of coffee. Then a call came that was unlike all the others.
'I'm one of them that bombed your church, ' the caller said, 'and I'm callin' to tell you there's a bomb under your house and it's lit and you've got five minutes to get out.'
I believed the call was a hoax but couldn't risk being wrong. I called my husband who soon arrived with police and FBI agents. I found myself wondering who hated us enough to have set the bomb..."