Hand Luggage Only: Great Britain: Explore the Best Coastal Walks, Castles, Road Trips, City Jaunts and Surprising Spots Across England, Scotland and Wales (Paperback)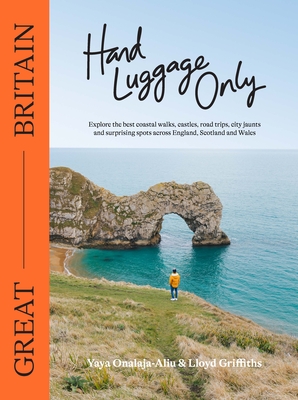 Description
---
Hand Luggage Only: Great Britain is a celebration of the amazing places to be found throughout England, Scotland and Wales. Actually, scratch that – it's about so much more than a celebration of Britain's finest travel destinations! This book will actually help get you out there and explore the country yourself.

There's so much about the UK that even Brits don't know, so Yaya and Lloyd of the successful travel blog Hand Luggage Only are here to share all of their insider tips. Featuring stunning photos, their book covers everything from incredible hikes, amazing castles, beautiful road trips and even surprising spots in the UK, all based on Yaya and Lloyd's own tried-and-tested experiences. Of course, you'll find both old-school favorites and hidden gems that'll help you make the most of our stunning islands.

Did you know there's a part of Great Britain that's warm enough to actually have palm trees? Or that there are beaches in Britain that look and feel like you're off on a tropical island vacation? Whether you keep this book at home or take it with you on the road, Yaya and Lloyd will help you see Great Britain in a new light and ensure you make the most of the many places awaiting discovery in this incredible part of the world.
About the Author
---
Yaya Onalaja-Aliu and Lloyd Griffiths of Hand Luggage Only are the UK's foremost and most successful travel bloggers. The guys met at university and set up their blog in 2014 to share travel stories and photos with like-minded travelers. Since graduating from St. Andrews and Cambridge universities, Hand Luggage Only has grown into the incredibly popular online travel site it is now, with Yaya and Lloyd visiting many countries along the way. Their expertise in the travel space has led to multiple international awards from the likes of Pinterest and Vuelio, and they also have some impressive partnerships with Visit England and Apple under the belts.