Ivory, Horn and Blood: Behind the Elephant and Rhinoceros Poaching Crisis (Hardcover)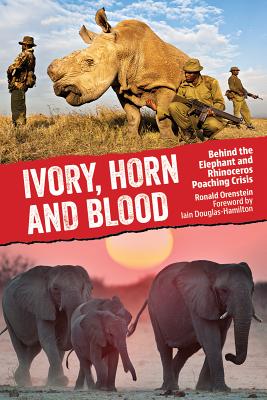 $29.95

Usually arrives at our store within 4-7 days
Description
---
Meticulous research, chilling facts.... an important and much needed book.
-- Dr. Jane Goodall, DBE, Founder, The Jane Goodall Institute
If it is understanding you seek, turn these pages.
-- Virginia McKenna, OBE, Founder, The Born Free Foundation
If you care about elephants and rhinos, and the poaching onslaught that threatens their extinction in the wild, this is the book for you.
-- Ian Redmond, OBE, Ambassador, UN Great Apes Survival Program
As recently as ten years ago, out of every ten African elephants that died, four fell at the hands of poachers. The figure today is eight. Over sixty percent of Africa's Forest Elephants have been killed by poachers since the turn of the century. Rhinoceroses are being slaughtered throughout their ranges. The Vietnamese One-horned Rhinoceros and the Western Black rhino have become extinct in the last decade, and the Northern White Rhinoceros, the largest of them all, barely survives in captivity.
This alarming book tells a crime story that takes place thousands of miles away, in countries that few of us may visit. But like the trade in illegal drugs, the traffic in elephant ivory and rhinoceros horn has far-reaching implications not only for these endangered animals, but also for the human victims of a world-wide surge in organized crime, corruption and violence.
Since the worldwide ban on commercial ivory trade was passed in 1989, after a decade that saw half of Africa's elephants slaughtered by poachers, Ronald Orenstein has been at the heart of the fight. Today a new ivory crisis has arisen, fuelled by internal wars in Africa and a growing market in the Far East. Seizures of smuggled ivory have shot up in the past few years. Bands of militia have crossed from one side of Africa to the other, slaughtering elephants with automatic weapons. A market surge in Vietnam and elsewhere has led to a growing criminal onslaught against the world's rhinoceroses. The situation, for both elephants and rhinos, is dire.
About the Author
---
Ronald Orenstein is a zoologist, lawyer and wildlife conservationist who has written extensively on a wide range of natural history issues. His most recent book is Turtles, Tortoises and Terrapins. He has worked for many years on elephant and rhinoceros conservation issues, and is a member of the Board of Directors of the Species Survival Network (SSN) and the Elephant Research Foundation (ERF). Dr. Iain Douglas-Hamilton is one of the world's foremost authorities on the African elephant. He pioneered the first in-depth scientific study of elephant social behavior in Tanzania's Lake Manyara National Park at age 23. He founded Save the Elephants in 1993 and was awarded the illustrious Order of the British Empire (OBE).