Locomotives: The Modern Diesel and Electric Reference (Paperback)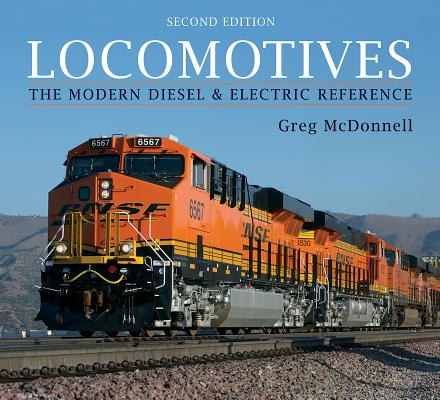 $29.95

Usually arrives at our store within 4-7 days
Description
---
This new oversize, full color book is the 'Diesel Spotter's Guide' on steroids. ... After you get Locomotives, you'll WANT to go out and see what's new
--Railfan and Railroad
This is a field guide that is also elegant, so my advice is this: Buy two copies, and toss one in your car, and put the other one on your coffee table.
--Trains
Locomotives is the definitive photographic reference for the North American rail fan. It covers all mainline locomotive models built for North American railroads from the mid-1970s onward. This revised and expanded edition includes data on all the new locomotive models built from 2007 to January 2015, including the latest electrics from Siemens and Tier 4 locomotives from General Electrics.
Containing 32 new pages, and over 300 photographs of more than 120 models, this remarkable large-format reference covers every locomotive manufacturer. Greg McDonnell provides concise yet comprehensive information on each model, along with easy-to-read tables of production totals, build dates and mechanical specifications.
About the Author
---
Greg McDonnell is the author of 10 books on a wide range of transportation subjects and a professional photojournalist for railroad publications in the United States and Canada. He received the Railway and Locomotive Historical Society's Fred A. and Jane R. Stindt Photography Award for significant contribution to the photographic interpretation of North America's railroading history. He lives in Cambridge, Ontario. Jerry A. Pinkepank is the author of the original Diesel Spotter's Guide and founder of the diesel locomotive news magazine Extra 2200 South. He lives in Seattle, Washington.