No More Lethal Waits: 10 Steps to Transform Canada's Emergency Departments (Paperback)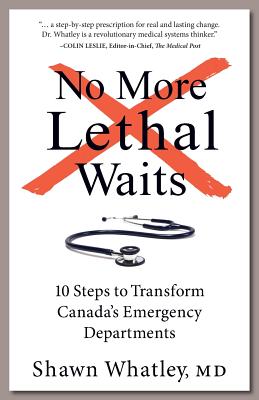 $18.00

Usually arrives at our store within 4-7 days
Description
---
"No More Lethal Waits" is a concise and compelling step-by-step guide to transform emergency departments in Canada and anywhere patients wait unconscionable times for their needs to be met. Dr. Shawn Whatley - who knows whereof he speaks, having led and participated in radical change to a large emergency department - summarizes the steps as:
1. Revamp Triage.
2. Close the Waiting Room.
3. Redefine Nurse-to-Patient Ratios.
4. Use Chairs and Exam Tables, Not Stretchers.
5. Change Scheduling to Meet Patient Needs More Efficiently.
6. Give MDs Responsibility for Flow and Hire Patient Navigators.
7. Use Real-Time Data and Adopt a Full Capacity Protocol.
8. Expect Resistance and Prepare for It.
9. Build on Solid Leadership Principles.
10. Get Political.
..".Dr. Shawn Whatley is a revolutionary medical systems thinker." -COLIN LESLIE, Editor-in-Chief, "The Medical Post"
"A call to administrators and nursing and physician leaders alike...Damn the torpedoes and do the right thing for patients." -GRANT INNES, MD, Founding Editor-in-Chief of "Canadian Journal of Emergency Medicine"
..".will ...return pride and joy back to emergency medicine." -MARKO DUIC, MD, Chief, Department of Emergency Medicine, Southlake Regional Health Centre, Newmarket, Ontario
"For the courageous, this book promises to spark discussion; it is a must read for everyone involved in emergency care." -CHRIS SIMPSON, MD, Chair, Wait Time Alliance, 2014-2015 President, Canadian Medical Association
..".poses, presses, and answers the question: How can we continue to tolerate long and dangerous waits in the emergency department when there are clear solutions which cost little and can save lives?" -PETER VICCELLIO, MD, Clinical Director, Department of Emergency Medicine, Stony Brook University Hospital, New York
"Where's the beef in this book? It's in the sacred cows of emergency medicine that Dr. Whatley kills... A must read for anyone frustrated with a system that presumes people must wait." -JON JOHNSEN, MD, Assistant Professor of Medicine, Northern Ontario School of Medicine, Thunder Bay
..".a very stimulating and awakening message." -STEPHEN B. STOKL, MD, author of "Mentally Speaking"

About the Author
---
Shawn Whatley, MD, is a seasoned physician leader with experience in emergency medicine and primary care. His passion for challenging accepted thinking and offering solutions started in emergency medicine at Southlake Regional Health Centre in Newmarket, Ontario, Canada. He served there as Interim Medical Director and then Physician Leader of the Emergency Services Program from 2008 to 2014. Working with a group of outstanding leaders and a motivated staff, he helped transform an average emergency department that had trouble attracting physicians into a province-leading ED. Annual patient visits grew from 73,000 to 100,000 over a few years. Southlake received special recognition from the Ontario Minister of Health in June 2013 for its provinceleading improvements to wait times. Today, Southlake cannot accommodate all the staff applying to work there. Dr. Whatley contributes articles regularly to "The Medical Post" and serves on the "Post"'s Physician Advisory Committee. Dr. Whatley has served on the board of the Ontario Medical Association and more recently on the board of the Canadian Medical Association, as well as on numerous hospital and provincial planning committees. He is a Lecturer for the University of Toronto, Department of Family and Community Medicine, and an Assistant Clinical Professor (Adjunct) in McMaster University's department of Family Medicine, Hamilton, Ontario.