The Maiden Voyage (Paperback)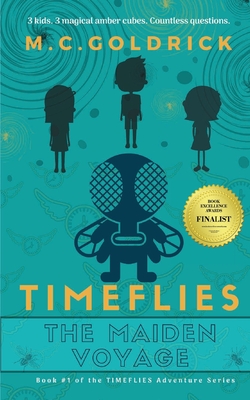 $10.99

Usually arrives at our store within 4-7 days
Description
---
Three kids. Three magical amber cubes. Countless questions. Can they find the answers?
Looking for something to get kids reading? Off screens and into books? Something different? Something fun? Get them TIMEFLIES, what the Miramichi Reader calls "A sure bet for getting middle-graders to read something worthwhile."
Witness history unfold as Griz, Sam, and Alisha travel through time and space disguised as common houseflies. Watching as flies on the wall, young readers are entertained as they learn, laugh and empathize with the generations that came before.
In TimeFlies: The Maiden Voyage, the first book in the series, we follow as Griz, short for Grizelda, goes back to the 1980's and discovers what inspired her parents to choose such a unique name.
Book #1 of the TIMEFLIES Adventure Series.
Back Cover Description:
OH, TO BE A FLY ON THE WALL...Unnoticed, Incognito.
What might you see? What might you learn?
Take your place on the wall with Griz, Sam, and Alisha as they travel through time and space disguised as common houseflies.
Series Information:
TIMEFLIES is a series of adventures in which three friends pose questions about their families. Transformed into flies, they are transported to the time and place holding the answer. Lightly sprinkled with science, geography, history, and flyswatters, TIMEFLIES is enjoyably educational. Humorous and action-packed, readers engage emotionally as the characters learn what motivates their families' behaviours, fostering empathy and understanding.
Bonus Materials are included at the back of each book and online. Activities and discussion topics invite readers and educators to continue the learning adventure when the book is done.