The Fiery Brook: Selected Writings (Radical Thinkers) (Paperback)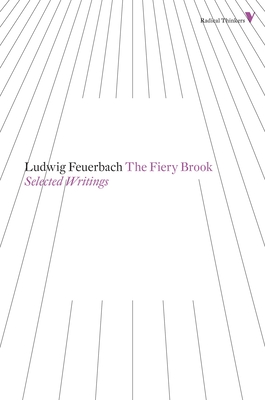 $21.95

Usually arrives at our store within 4-7 days
Description
---
Feuerbach's departure from the traditional philosophy of Hegel opened the door for generations of radical philosophical thought. His philosophy has long been acknowledged as the influence for much of Marx's early writings.

Indeed, a great amount of the young Marx must remain unintelligible without reference to certain basic Feuerbachian texts. These selections, most of them previously untranslated, establish the thought of Feuerbach in an independent role. They explain his fundamental criticisms of the 'old philosophy' of Hegel, and advance his own humanistic thought, which finds its bases in life and sensuality. Feuerbach's contemporaneity as an existentialist, humanist, and atheist is clearly presented, and the reader can readily grasp the liberating influence of this too-long neglected philosopher.

Professor Zawar Hanfi has written an excellent introduction establishing Feuerbach's environment, importance, and relevance and his translations surpass most previous Feuerbach translators.
About the Author
---
Ludwig Feuerbach (1804–1872) was a German philosopher and anthropologist credited by both Karl Marx and Frederick Engels as a major influence. Among his best known works is his critique of Christianity, The Essence of Christianity. Feuerbach supported materialism, liberalism, and atheism. Much of his writing presented a critical philosophical analysis of religion.

Dr. Zawar Hanfi was a professor at Monash University in Melbourne, Australia, until his death in 1989. In 1971, he translated The Fiery Brook: Selected Writings by Ludwig Feuerbach. Dr. Hanfi was a linguist and classical scholar. Born in India, he studied Descartes with Heidegger in Germany after fleeing civil war in Pakistan.
Praise For…
---
"There is no other road for you to truth and freedom except that leading through the brook of fire (the Feuerbach). Feuerbach is the purgatory of the present times." —Karl Marx