There are no products in your shopping cart.
The Cake Tree in the Ruins (Pushkin Collection) (Paperback)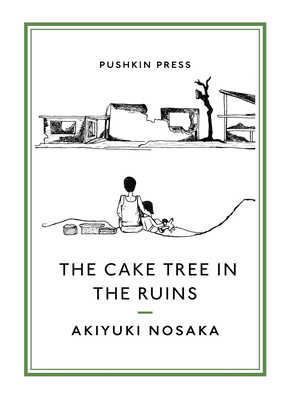 Description
---
Intensely moving stories that tell of the absurd violence of war, and tenderly depict the animals and children caught in its vortex.

In 1945, Akiyuki Nosaka watched the Allied firebombing of Kobe kill his adoptive parents, and then witnessed his sister starving to death. The shocking and blisteringly memorable stories of The Cake Tree in the Ruins are based on his own experiences as a child in Japan during the Second World War.

They are stories of a lonely whale searching the oceans for a mate, who sacrifices himself for love; of a mother desperately trying to save her son with her tears; of a huge, magnificent tree which grows amid the ruins of a burnt-out town, its branches made from the sweetest cake imaginable.

Profound, heartbreaking and aglow with a piercing beauty, they express the chaos and terror of conflict, yet also how love can illuminate even the darkest moment.
About the Author
---
Akiyuki Nosaka was born in 1930 in Japan, and was a member of the yakeato generation, 'the generation of the ashes', who survived the devastating firebombing of Japan during the Second World War. Nosaka was an award-winning novelist, short-story writer, essayist, lyricist, singer and politician. His adoptive parents were killed in the Allied firebombing of Kobe, and after he was evacuated with his sister, she died of malnutrition. These experiences inspired the stories in this collection, as well as one of his best-known works, Grave of the Fireflies, which was turned into a hugely successful Studio Ghibli film (called 'a masterpiece' by the Guardian), and which is forthcoming in a new translation from Pushkin Press. Nosaka died in 2015.
Praise For…
---
'These deeply intense and parable-like tales of suffering tear at the heartstrings, but also show hope and resiliency in a nation haunted by war. . . Akiyuki Nosaka offers beautiful and haunting tales of suffering and starvation in the aftermath of the Allied bombing of Japan in World War II.' -  -- Nancy Powell, in Shelf Awareness

 'Nosaka transmutes the pain of his personal experiences into sharp, heart-wrenching depictions of a country in desperate destitution... In each of these stories, the connections and relationships that are often taken for granted in day-to-day life are elevated alongside the stakes, shining intensely and brilliantly even as tragedy unfolds.' — World Literature Today

'Magical realism with the touch of a master… Nosaka, drawing on his own experiences, in just a few pages bringing to life a world now largely forgotten.' — The Reading Life 

'Remarkable stories... They are dark but so beautiful, so profound; subtle and elegant. It is a book that will last all your life.' - Irish Times

'Heart-wrenching...Tragic and imaginative... These short vignettes stand as chilling reminders of the wartime trauma inflicted upon Japanese youth during and after World War II.' - Los Angeles Review of Books

'Nosaka's hauntingly sad and beautiful stories... remind us of the full tragedy of World War II.' - Japan Times

'One can only be shaken by these cruel and magnificent tales, which are also the most eloquent plea for peace imaginable.' - L'Express

'Moving snapshot of moments in the life of a shattered nation... Unforgettable.' - Children's Books Ireland