Carmilla, Deluxe Edition: The cult classic that inspired Dracula (Hardcover)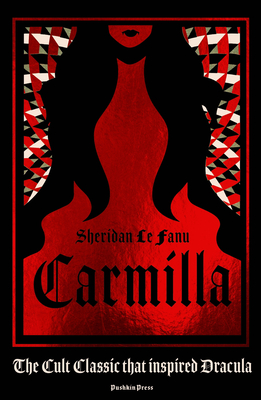 Description
---
A beautifully produced edition of the ORIGINAL vampire story — predating Dracula by more than 25 years — with a stunning iconic cover + thoughtful design and layout to ensure the most seductive reading experience...

"What Carmilla lacks in sophistication — with a reveal so laughably obvious it's actually charming — it makes up for with its surprisingly gentle, nonjudgmental depiction of Sapphic longing. Does Carmilla want to drain her tender new young friend? Yes! But she feels bad about it, and it's that exploration of obsessive first love being both exciting and monstrous that makes this story perfect for Y.A. readers, even if it predates the young adult category by many decades." -- Kiersten White, the Bram Stoker Award-winning author of The Dark Descent of Elizabeth Frankenstein and Hide

Steeped in the sexual tension between two young women, this is a beautiful, brand-new edition of the original cult classic which influenced Dracula and all the vampire stories that followed, including Anne Rice's Vampire Chronicles.

In an isolated castle deep in the Austrian forest, teenaged Laura leads a solitary life with only her father, attendant and tutor for company. Until one moonlit night, a horse-drawn carriage crashes into view, carrying an unexpected guest -- the beautiful Carmilla.

So begins a feverish friendship between Laura and her entrancing new companion, one defined by mysterious happenings and infused with an implicit but undeniable eroticism. As Carmilla becomes increasingly strange and volatile, prone to eerie nocturnal wanderings, Laura finds herself tormented by nightmares and growing weaker by the day...
About the Author
---
Sheridan Le Fanu (1814-1873) was an Irish writer of gothic tales, mystery novels and ghost stories, most famous for his novel Uncle Silas. Carmilla was first published in 1872 and has served as an inspiration countless books, from Bram Stoker's Dracula and Henry James' The Turn of the Screw to Anne Rice's Vampire Chronicles, and a slew of films such as Hammer Horror's Karnstein Trilogy.
Praise For…
---
"Succeeds in inspiring a mysterious terror better than any other writer" --M.R. James