Any Time, Any Place, Any Prayer Board Book: We Can Talk with God (Board Books)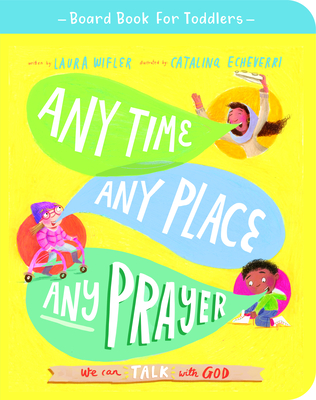 Description
---
Using simple sentences and stunning illustrations, this board book excites toddlers about prayer by teaching them that Jesus' friends can talk with him at any time, in any place, about anything.
They can say thank you, help and sorry. They can pray when they're happy or when they're sad. They can pray in the daytime or in the night-time. It's amazing to talk to God.
Any Time, Any Place, Any Prayer Board Book features:
- a robust board-book format
- stunning illustrations by Catalina Echeverri that will delight young children
- simple sentences that will communicate truths in a way toddlers can understand
- content that provides a basic understanding of what Christian prayer is for children aged 1-3
This foundational book on prayer makes a perfect gift for toddlers.
About the Author
---
Laura Wifler is the cofounder of Risen Motherhood and serves as the executive director and co-host of the podcast. She is the co-author of the bestselling book, Risen Motherhood: Gospel Hope For Everyday Moments and the forthcoming children's book, Any Time, Any Place, Any Prayer (September 2021). Laura, her husband, and her three children live in central Iowa.