The Art of Horizon Zero Dawn (Hardcover)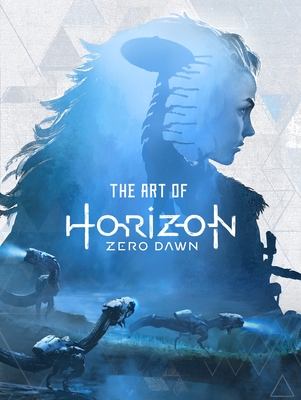 $39.95

Usually arrives at our store within 4-7 days
Description
---
Focusing on the beautiful artwork of Guerrilla Games' Horizon Zero Dawn this is an in-depth insight into a world as dangerous as it is beautiful.

The Art of Horizon Zero Dawn is the ultimate gallery of the hotly anticipated new IP from Guerrilla Games (Killzone series). It focuses on the stunning artwork used to develop the game, and includes over 300 images, sketches, and concept art, commentary throughout from the artists and creators. This is an in-depth insight into a world as beautiful as it is dangerous.

Over 1000 years ago a cataclysm destroyed life as we know it, forcing humans to the brink of extinction. In our place machines rose, and nature took back our cities, until all that was left of our world was the rumours of the old ones and the ruins of a civilisation long past. The tribes of the new world live scattered, some small and humble, some as powerful as kings. If Aloy, an outcast and hunter, is to find her true place in this world she must combat the great robotic creatures of the land and uncover the mysteries of a lost civilisation.
About the Author
---
Paul Davies has worked in gaming journalism for twenty years, writing and editing magazines and websites including Official Nintendo and Computer & Video Games. He is the co-founder of media agency Unlikely Hero Ltd. whose clients include Yahoo! UK and Microsoft.
Praise For…
---
"Horizon: Zero Dawn isn't just a very good game, it's a very pretty game" Kotaku

"The Art of Horizon Zero Dawn is a beautiful accompaniment to this amazing game and if you're a fan of this game or video game art in general, this books is filled with stunning imagery and information" Impulse Gamer review 

"a beautiful book that depicts just how gorgeous this game truly is"  Gamers Sphere review

 "Horizon Zero Dawn's art book is as beautiful as the game"  Polygon feature

"very good at what it does, providing background context to what makes Horizon Zero Dawn so visually appealing." Adventures in Poor Taste

"At 192 pages, this hardback book is a beautiful and packed from cover to cover with incredible artwork. I can't find a single thing to call out in a negative way with this book — it's simply perfect."  Gaming Trend 

 "This is easily one of the most top rate art books in my vast collection." Enemy Slime 

"the post-post-apocalypse has never looked so beautiful" VG Blogger