The Gran Tour: Travels with My Elders (Paperback)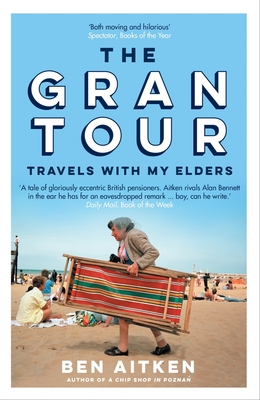 Description
---
'A tale of gloriously eccentric British pensioners. Aitken rivals Alan Bennett in the ear he has for an eavesdropped remark ... boy, can he write.' Daily Mail, Book of the Week
FROM THE AUTHOR OF THE ACCLAIMED A CHIP SHOP IN POZNAŃ.
One millennial, six bus trips, one big generation gap.
When Ben Aitken learnt that his gran had enjoyed a four-night holiday including four three-course dinners, four cooked breakfasts, four games of bingo, a pair of excursions, sixteen pints of lager and luxury return coach travel, all for a hundred pounds, he thought, that's the life, and signed himself up. Six times over.
Good value aside, what Ben was really after was the company of his elders - those with more chapters under their belt, with the wisdom granted by experience, the candour gifted by time, and the hard-earned ability to live each day like it's nearly their last.
A series of bus holidays ensued - from Scarborough to St Ives, Killarney to Lake Como - during which Ben attempts to shake off his thirty-something blues by getting old as soon as possible.
About the Author
---
Ben Aitken was born under Thatcher, grew to six foot then stopped, and is an Aquarius. He is the author of Dear Bill Bryson: Footnotes from a Small Island (2015) and A Chip Shop in Poznan: My Unlikely Year in Poland (2019), 'one of the funniest books of the year' (Paul Ross, talkRadio).