Mastering Office 365 Administration: A complete and comprehensive guide to Office 365 Administration - manage users, domains, licenses, and much more (Paperback)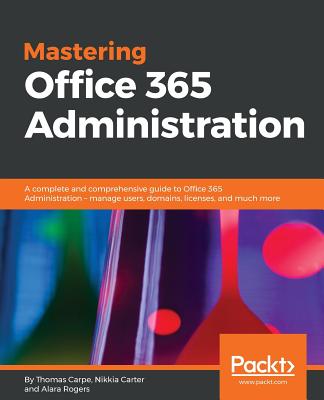 $41.99

Usually arrives at our store within 4-7 days
Description
---
Leverage Office 365 to increase your organization's efficiency
Key Features:
- Perform common to advanced-level management and administrative tasks for your organization with Office 365
- Become an Office 365 generalist who can work with the entire stack-not just specific products
- An advanced-level guide that will teach you to implement enterprise-level services into your organization, no matter the size of the business
Book Description:
In today's world, every organization aims to migrate to the cloud in order to become more efficient by making full use of the latest technologies. Office 365 is your one-stop solution to making your organization reliable, scalable, and fast.
This book will start with an overview of Office 365 components, and help you learn how to use the administration portal, and perform basic administration. It then goes on to cover common management tasks, such as managing users, admin roles, groups, securing Office 365, and enforcing compliance. In the next set of chapters, you will learn about topics including managing Skype for Business Online, Yammer, OneDrive for Business, and Microsoft Teams. In the final section of the book, you will learn how to carry out reporting and monitor Office 365 service health.
By the end of this book, you will be able to implement enterprise-level services with Office 365 based on your organization's needs.
What You Will Learn:
- Understand the vast Office 365 feature set
- Understand how workloads and applications interact and integrate with each other
- Connect PowerShell to various Office 365 services and perform tasks
- Manage Skype for Business Online
- Get support and monitor Office 365 service health
- Manage and administer identities and groups efficiently
Who this book is for:
This book targets architects, sys admins, engineers, and administrators who are working with Office 365 and are responsible for configuring, implementing, and managing Office 365 in their organization. A prior knowledge of Office 365 and Exchange servers is mandatory.