Yemen in Crisis: Road to War (Paperback)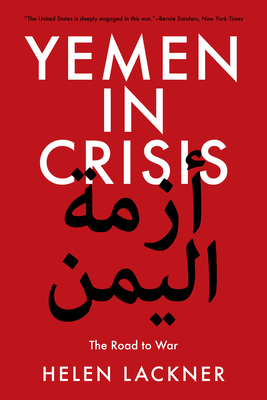 Description
---
Expert analysis of Yemen's social and political crisis, with profound implications for the fate of the Arab World

The democratic promise of the 2011 Arab Spring has unraveled in Yemen, triggering a disastrous crisis of civil war, famine, militarization, and governmental collapse with serious implications for the future of the region. Yet as expert political researcher Helen Lackner argues, the catastrophe does not have to continue, and we can hope for and help build a different future in Yemen.

Fueled by Arab and Western intervention, the civil war has quickly escalated, resulting in thousands killed and millions close to starvation. Suffering from a collapsed economy, the people of Yemen face a desperate choice between the Huthi rebels on the one side and the internationally recognized government propped up by the Saudi-led coalition and Western arms on the other.

In this invaluable analysis, Helen Lackner uncovers the roots of the social and political conflicts that threaten the very survival of the state and its people. Importantly, she argues that we must understand the roots of the current crisis so that we can hope for a different future for Yemen and the Middle East.

With a preface exploring the US's central role in the crisis.
About the Author
---
Helen Lackner has spent the past four decades researching Yemen, and has worked in the country for fifteen years. She is a Research Associate at the London Middle East Institute at SOAS, University of London, and is currently the editor of the Journal of the British-Yemeni Society and is a regular contributor to Oxford Analytica's briefs and openDemocracy. Her works include Why Yemen Matters: A Society in Transition and Yemen and the Gulf States: The Making of a Crisis.
Praise For…
---
"As soon as US-made bombs began exploding in Yemen, it became morally incumbent on Americans to understand what is really happening in this proud Arab nation now on the brink of collapse. Helen Lackner's comprehensive investigation into the history, present, and future of Yemen is the perfect place to begin. Brimming with erudition and rich in analysis, Yemen in Crisis offers invaluable insight to seasoned observers and newcomers to the region alike."
—Moustafa Bayoumi, author of How Does it Feel to Be a Problem? and This Muslim American Life

"Helen Lackner is arguably the best non-Yemeni expert of Yemen, a country where she first sojourned in the 1970s acquiring since then a unique and multifaceted expertise. This book is the best compact presentation of the background and dynamics of the social and political explosion that turned Yemen into the worst humanitarian crisis of today's world."
—Gilbert Achcar, author of The People Want and Morbid Symptoms

"A matchless geo-political profile of the country, its history, its economic structures, and above all, its people…. She knows the country better than the gangs in Foggy Bottom and Whitehall, not to mention Mossad operatives or the other spooks of the 'international community' based in Riyadh."
—Tariq Ali, New Left Review

"This timely book analyzes the deep roots of the crisis that gripped Yemen even before the destructive war against it created the world's worst humanitarian crisis. Lackner is superbly equipped to trace the causes for the failure and collapse of the Yemeni state, under the inexorable pressures of neo-liberalism and regional and global rivalries."
—Rashid Khalidi, Edward Said Professor of Arab Studies at Columbia University