A Compendium of Sega Master System Games - Volume One (Paperback)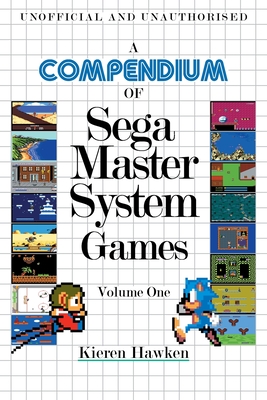 Description
---
In this book we take you through the life of the Sega Master System, and its predecessor the Sega SG-1000, looking at a varied cross section of the 400+ games available, with a review and screenshot of each one. From classics released through the mid to late eighties, to modern homebrew titles, and even some unreleased prototypes, there are games of all genres and styles here. With up to ten entries for each letter of the alphabet, this is not supposed to be a list of the best or the worst games, neither is it a complete guide to all that's available. It is simply a meandering journey through the golden years of 8-bit console history, designed to interest both the dedicated fan and the casual reader alike.
Contains interviews with Epyx producer Matt Householder, Imagitec artist Shaun McClure, and Activision producer Tom Sloper.
A Compendium of Sega Master System Games is a celebration of the ever-popular console with nostalgic memories, expert opinions, interesting stories, trivia, developer interviews and so much more besides.