The Partisan Court: The Era of Political Partisanship on the U.S. Supreme Court (Hardcover)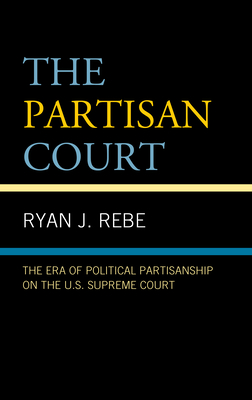 This item is not available.
Description
---
The Era of Political Partisanship on the U.S. Supreme Court challenges conventional notions of consensus-building and neutral decision-making on the U.S. Supreme Court and argues that the justices vote their partisan preferences on election law cases. By focusing specifically on election law, Rebe reveals a consistent pattern of partisanship on the Court. The findings controvert popular perceptions of non-biased decision-making and fundamental fairness. The aggregate analysis shows that the justices vote along party-lines in a majority of election law cases, and consensus-building is rare when there is a contentious electoral issue at stake. Moreover, these decisions often conflict with principles of stare decisis, originalism, or judicial restraint. The topics covered include: gerrymandering, campaign finance, voter ID laws, and mail-in voting, among others. Rebe also conducts a content analysis of the most controversial election law cases of the past twenty years, such as: Vieth v. Jubelirer, Crawford v. Marion County, Citizens United v. FEC, and Shelby County v. Holder. This book provides a thorough overview of two decades of election law cases and sheds light on the impact these decisions have had on remaking America's electoral institutions.
About the Author
---
Ryan J. Rebe is associate professor of political science and Director of Legal Studies at William Paterson University in New Jersey.