Mastering Microsoft Endpoint Manager: Deploy and manage Windows 10, Windows 11, and Windows 365 on both physical and cloud PCs (Paperback)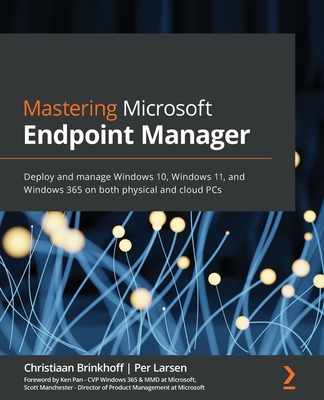 This item is not available.
Description
---
Design and implement a secure end-to-end desktop management solution with Microsoft Endpoint Manager
Key Features:
Learn everything you need to know about deploying and managing Windows on physical and cloud PCs
Simplify remote working for cloud-managed cloud PCs via new service Windows 365
Benefit from the authors' experience of managing physical endpoints and traditional virtual desktop infrastructures (VDI)
Book Description:
One of the main reasons for the slow adoption of Modern Workplace solutions designed to simplify the management layer of your environment is the lack of understanding and knowledge of the product. With this book, you'll learn everything you need to know to make the shift to Modern Workplace, running Windows 10, Windows 11, or Windows 365.
Mastering Microsoft Endpoint Manager explains various concepts in detail to give you the clarity to plan how to use Microsoft Endpoint Manager (MEM) and eliminate potential migration challenges beforehand. You'll get to grips with using new services such as Windows 365 Cloud PC, Windows Autopilot, profile management, monitoring and analytics, and Universal Print. The book will take you through the latest features and new Microsoft cloud services to help you to get to grips with the fundamentals of MEM and understand which services you can manage. Whether you are talking about physical or cloud endpoints-it's all covered.
By the end of the book, you'll be able to set up MEM and use it to run Windows 10, Windows 11, and Windows 365 efficiently.
What You Will Learn:
Understand how Windows 365 Cloud PC makes the deployment of Windows in the cloud easy
Configure advanced policy management within MEM
Discover modern profile management and migration options for physical and cloud PCs
Harden security with baseline settings and other security best practices
Find troubleshooting tips and tricks for MEM, Windows 365 Cloud PC, and more
Discover deployment best practices for physical and cloud-managed endpoints
Keep up with the Microsoft community and discover a list of MVPs to follow
Who this book is for:
If you are an IT professional, enterprise mobility administrator, architect, or consultant looking to learn about managing Windows on both physical and cloud endpoints using Microsoft Endpoint Manager, this book is for you.