Options Trading for Beginners: How to Generate Regular, Consistent Weekly Income Without Taking Big Risk, Even if You Are a Beginner with a Small Acc (Paperback)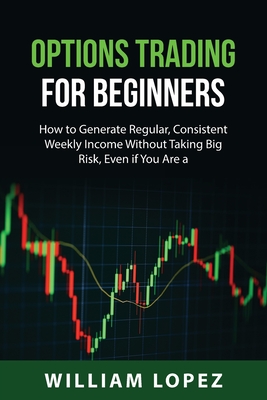 Description
---
We provide you with the best chance you'll have this year to create wealth, build capital, and experience financial freedom.
Options Trading: The most comprehensive and final manual on trading will be included in the CRASH 2022 course.
They have 6 volumes in one.
Who is this six-book compilation for?
This is a unique book for individuals who are committed to achieving their financial goals in 2022.
This is your chance to learn how to trade and make money in a few weeks if you've been looking for methods to make money without having to slave away in an office job you detest.Options Trading QuickStart Guide leads you through a variety of strategic trading decisions in addition to giving you a thorough introduction to options trading. This book demonstrates how a trader thinks and makes important decisions. This book was intended for ambitious traders who want to become powerful, astute, and deft options traders rather than for those who choose to remain on the sidelines.
The foundations of put and call options are what you will learn.
Understanding and utilizing inherent value
How to make wise trades using a stock's implied volatility (IV)The information you should know about "The Greeks."
The short sale's mechanisms
Right now, scroll to the top of the page and click the orange "Buy Now" button there.