Mastering Excel 2019: The Ultimate, Comprehensive, And Step-By-Step Training Book To Learn Microsoft Excel And Master Data Analysis And Busi (Hardcover)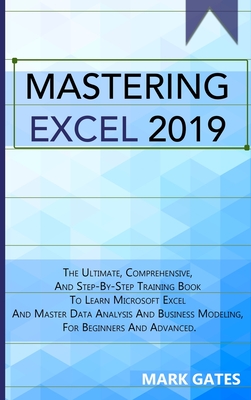 Description
---
MASTERING EXCEL 2019 The Ultimate, Comprehensive, And Step-By-Step Training Book To Learn Microsoft Excel And Master Data Analysis And Business Modeling, For Beginners And Advanced.
# 55% off for book stores now at $16.65 instead of $ 36.99 #
If you have landed on this page, there is no doubt, you want to find out more about this wonderful world of Microsoft Excel.
Excel has always been the workhorse of the Redmond company, more than Windows itself. The usefulness of spreadsheets is indisputable, and Microsoft has brought functionality and usability to the highest levels.
Your customers will never stop to use this book
Nowadays, all institutes, universities, businesses, and companies use the programs of the Office package to organize their work, write texts, receive mail, or make video presentations.
You are probably wondering who needs to know Excel; in the world of work, an at least basic use of the program is now taken for granted, while for those who aim to enter a larger and more complex company, it goes to deepen all aspects of the program is certainly an important and essential aspect.
Do you want to learn all the secrets of the most popular and used software in the world?
In this book, you will read about:
Understanding the Microsoft Excel
Make a Basic Understanding of the Main Screen
Formula Bar
Creating a Spreadsheet in MS Word
Creating Charts in Excel and Their Types
Headers and Footer in a Worksheet
Formatting the Excel Tables
Putting a Signature in an Excel File
Inserting Symbols
Bring the Elements Forward and Backward in MS Excel
... & Lot More
This book meets the needs of both beginners as well as advanced users
With this guide in your hands, you will learn all the techniques to use Excel at its maximum and your job will become a lot easier or if you are searching for a job, you will have more chances to get one
But it now and let your customers get addicted to this amazing book