CSS Programming for Beginners: How to Learn CSS in Less Than a Week. The Ultimate Step-by-Step Complete Course from Novice to Advanced Programmer (Paperback)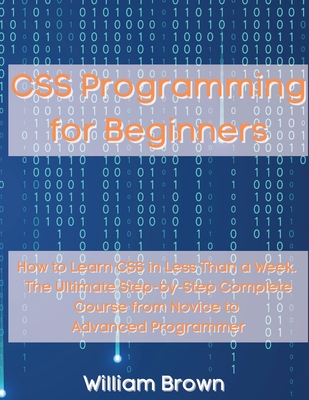 $30.95

Usually arrives at our store within 4-7 days
Description
---
✓
Are You Ready to Learn and Start Programming with CSS in Less than a Week?
✓ Are you looking for a comprehensive guide to take your very first step into programming?
This book is a complete introduction to the world of programming, and you don't need any data science knowledge to read it.
The importance of the first approach is crucial and taking the first steps by following a manual written by a professional programmer can certainly make a difference.
You will learn what a programming language is and how to use it.
Inside:
✓ What is exactly is a Programming Language and why do we need a one?
✓ Clearly Understand What CSS Programming Is and How It Works to realize why it has much more advantages than the other programming languages;
✓ Have A Complete Knowledge about Coding; it is important to acquire this skill because it determines how far you advance in your career and what opportunities are available to you down the road.
✓ Discover how fun coding can be
✓ ... & Lot More
You have no idea how many and what job opportunities you can have if you have a good understanding of programming.
Very soon, being able to program will become a must for anyone who wants to build a career.
Unsure where to get started with coding? Worried that learning a coding language will be too hard?
The goal of this book is simple: You will be given all the information, tips, tricks, and practice codes that you need to write your codes and turn your ideas into reality
The truth is...Learning how to start with a new coding language is not always as easy as it may seem, and some beginners are worried that working in this kind of language is going to be difficult and they give up before trying. Choosing to hire another programmer to do the work, is costly, and if anything ever goes wrong with the program, you still have to pay them.
Choose the only guide you need to learn coding quickly and easily, from expert developers with 20+ years' experience.